" As I stepped from my window I heard a loud sound.
Through the door came the rabbit with a leap and a bound.
He was furry and soft from his head to his feet.
To see him so close was really quite neat."

- Tamy Fuller -

Easter Menu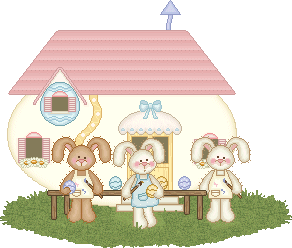 Some Things That Easter Brings
" Easter duck and Easter chick,
Easter eggs with chocolate thick,
Easter hats for one and all,
Easter bunny makes a call!
Happy Easter always brings
Such a lot of pleasant things !"
Happy Easter !!!

Nothing in this site is Public Domain. Graphics are copyrighted by various artists and are used with permission.
Please, click on the links above to visit the websites were you can download the graphics from. Do not save anything from my pages, please!