Happy Holidays from Irene's Holiday Corner
If you arrived on this page via a webring,
click HERE to enter my site through the front door.
Welcome dear friend to my Holidays Corner !
Here we celebrate holidays all year through.
I've selected some interesting things for each event: poems, stories, cards, pictures, recipes and much more. They are updated every season, so come back often.
Each holiday quilt will lead you to many pages about different holidays. I have also cute adoptions for you each holiday.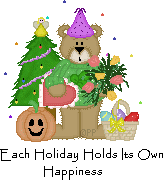 This Corner has over 150 Holiday pages. Enjoy !
Choose your favorite holiday and have fun. Hope you have a nice time here
and come back often. My Holiday Corner is open all year long .

Hope you enjoy my Holidays Quilt and come back soon.
Christmas at Irene's Country Corner, where it's Christmas all year through.

Poems, carols, traditions, crafts, decoration, christmas pictures, memories, adoptions, quilt exchange, recipes and more.
Don't forget to visit Irene's Seasons Corner.

Check when holidays are celebrated all around the world at: The Earth Calendar.


Content and layout copyright © Irene's Country Corner. Graphics are copyrighted by various artists. Please, notice that nothing is this site is public domain. You are not authorized to copy texts, midis, pictures or any other material. Everything in this site is for my personal use only. Absolutely none of the graphics can be downloaded or linked to. Please, visit their creators' web sites if you want to use their graphics. I have borrowed or paid to use the original work of different artists and I always provide links to their own sites on each and every page their graphics are used. Please, respect our copyrights and do not steal anything from this site. Thank you and enjoy your stay !