Easter in Brazil


As Brazil is located below the Ecuador line, in the South hemisphere, Easter doesn't happen during Spring, but during Fall.
| | |
| --- | --- |
| On Good Friday, Catholic traditions is to eat dishes which have fish. Other kinds of meat, such as beef, chicken, pork etc are avoided on this day by Catholics. Easter Sunday is a day for families to have a special lunch and exchange chocolate Easter eggs. The first thing children do when they woke up on a Easter Sunday, is to look for the eggs that were hidden by the Easter Bunny. | |
| | |
| --- | --- |
| | Chocolate bunnies are sold everywhere and they are as popular as the eggs among children. The chocolate eggs come wrapped in bright colored papers and many supermarkets usually decorate a whole corridor with them, giving us the impression we are entering a tunnel of Easter eggs. It's looks very nice. |
| | |
| --- | --- |
| At school, children usually make some Easter crafts and fill them with chocolate to give as gifts to their family and friends. | |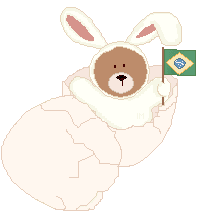 HAPPY EASTER TO EVERY "BUNNY" !
FELIZ PÁSCOA !
Nothing in this site is Public Domain. Graphics are copyrighted by various artists and are used with permission.
Please, click on the links above to visit the websites were you can download the graphics from. Do not save anything from my pages, please!