Easter Poetry
" Then all of a sudden from out of nowhere,
Came some lively bunnies, hopping here, hopping there!
Leading the group with ears long and funny
Was a plump all-white rabbit...
That's right...the Easter Bunny !"

- Tammy Fuller -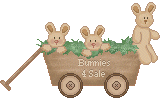 The Easter Bunny
" There's a story quite funny,
About a toy bunny,
And the wonderful things she can do;
Every bright Easter morning,
Without warning,
She colors eggs, red, green, or blue.

Some she covers with spots,
Some with quaint little dots,
And some with strange mixed colors, too
- Red and green, blue and yellow,
But each unlike his fellow
Are eggs of every hue.
And it's odd, as folks say,
That on no other day
In all of the whole year through,
Does this wonderful bunny,
So busy and funny,
Color eggs of every hue.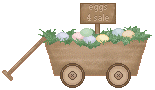 If this story you doubt
She will soon find you out,
And what do you think she will do?
On the next Easter morning
She'll bring you without warning,
Those eggs of every hue."
- M. Josephine Todd, 1909 -

Meeting the Easter Bunny
" On Easter morn at early dawn
before the cocks were crowing
I met a bob-tail bunnykin
and asked where he was going.
"Tis in the house and out the house
a-tispy, tipsy-toeing,
Tis round the house and 'bout the house
a-lighlty I am going."
"But what is that of every hue
you carry in your basket?"
"Tis eggs of gold and eggs of blue;
I wonder that you ask it."

"Tis chocolate eggs and bonbon eggs
and eggs of red and gray,
For every child in every house
on bonny Easter day."
He perked his ears and winked his eye
and twitched his little nose;
He shook his tail - what a tail he had -
and stood up on his toes.
"I must be gone before the sun;
the east is growing gray;
Tis almost time for bells to chime."
So he hippety-hopped away."
- Rowena Bennett, 1930 -
T'was The Day Before Easter


" T'was the day before Easter and all through the woods,
The bunnies were busy packing their goods.
The eggs were all colored so pretty and bright,
All things were "go" for the big, special night.
The baskets were waiting, all decorated with care,
In hopes that the Bunny soon would be there.
My little brother Sam was asleep in his bed,
While visions of Easter eggs rolled round his head.
And I in my pajamas with the cat on my lap,
I had just settled down for a quick little nap.
When outside the window I heard a great noise,
I sprang from my chair and jumped over some toys.
As quick as a flash to the window I flew,
I pulled up the shade and, Oh, what a view.
The moon on the meadow cast a bright golden glow
And the wind blew the flowers to and then fro.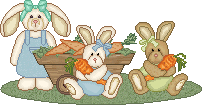 " Then all of a sudden from out of nowhere,
Came some lively bunnies, hopping here, hopping there!
Leading the group with ears long and funny
Was a plump all-white rabbit...
That's right...the EASTER BUNNY!
The bunnies hopped past, one, two, three, four,
The rabbit called out and then there were more.
"Come Peter! Come, Flopsy! Come, Benny! Come, Joe!
Now hop along! Hop along! Hop along! GO!"



So up on each doorstep the bunnies did hop,
With baskets of eggs. (Let's hope they don't drop)!
Just at that moment, on the porch down below,
Came the stomping of feet 'Twas the rabbit I know!
As I stepped from my window I heard a loud sound.
Through the door came the rabbit with a leap and a bound.
He was furry and soft from his head to his feet.
To see him so close was really quite neat.

He was surrounded by eggs that had been carefully dyed.
Easter eggs galore he soon would hide.
His eyes were all twinkles, His nose was so pink,
And I can't be too sure but I think he did wink.
He had a kind face and a big fluffy tail
That bobbed up and down like a boat with a sail.
A twitch of his nose and a flick of his ear
Was his way of saying "You've nothing to fear"
He uttered no sound as he hopped all about,
Hiding the eggs and leaving no doubt,
That the Easter Bunny had come like he does every year...
Bringing baskets of happiness to children so dear. "
- Tammy Fuller -

The Bunny Wiggle
" The Bunny Wiggle
Bunny rabbits wiggle,
So much they make me giggle.
They wiggle their ears,
They wiggle their nose,
The tail on their rear,
Wiggles too, I suppose.
And just when I say, "Stop wiggling, stop !"
They wiggle all over, and take a big hop ! "

Easter's ABC
"A is for April, the heart of the Spring.
B is for bunnies and the Baskets they bring.
C is for Cart, with eggs piled upon it.
D is for Daisies we pick for our bonnets.
E is for Eggs, each a bright color.
F is for Family, sister and brother.
G is for Garden, hiding a treat.
H is for Hopping on quick bunny feet.
I for Indoors, after egg hunting ends.
J for the Joy we share with our friends.
K is for Kindness that makes the day bright.
L is for Lilies, lovely and white.
M is for Music we gather to play.
N is for Nest, filled with eggs the birds lay.
O for Outdoors, where we hunt by the hours.
P for the Puddles that follow a shower.
Q is for Quiet in the soft morning light.
R is for Rabbit, dressed up just right.
S is for Spring, when the world is in bloom.
T us for Tulips we place in each room.
U for Umbrella in sunshine or rain.
V is for Violets found in the lane.
W is for Water where rabbits are gliding.
X marks the spot where the eggs are hiding.
Y is for Young ones, happy at play.
Z is for Zeal as we greet Easter Day. "
- Nora Tarlow -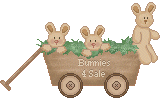 Easter Rabbits
"Five little Easter rabbits
Sitting by the door,
One hopped away, and then there were four.
Hop, hop, hop, hop,
See how they run!
Hop, hop, hop, hop,
They think it is great fun! "