| | | |
| --- | --- | --- |
| | The Easter Bunny | |


" There's a story quite funny, About a toy bunny,
And the wonderful things she can do;
Every bright Easter morning, Without warning,
She colors eggs, red, green, or blue. "

- M. Josephine Todd -

- The Story of the Easter Bunny -

Hares and Rabbits are very fertile animals and they often serve as symbols of new life during the Spring season. The bunny as an Easter symbol seems to have originated in Germany, where it was first mentioned in German writings dating from the 1500s. The first edible Easter bunnies were made there in the early 1800s and consisted of a mixture of pastery and sugar.
| | |
| --- | --- |
| | The Easter bunny was introduced to American folklore by German settlers who arrived in the Pennsylvania Dutch country during the 1700s. Children believed that if they were good the Easter bunny would lay a nest of colored eggs. |
| | |
| --- | --- |
| They built their nest in a secluded place inside their homes, the barn or in the garden. Boys and girls used their caps and bonnets to make the nests. The use of baskets came later as the tradition of the Easter bunny spread throughout the whole country. | |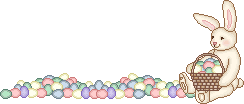 Nothing in this site is Public Domain. Graphics are copyrighted by various artists and are used with permission.
Please, click on the links above to visit the websites were you can download the graphics from. Do not save anything from my pages, please!