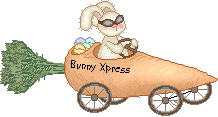 Want to exchange cards with me ? Send me your card and the url to link it to
and I will post it in my Easter cards page. Please, save mine below and
link it to http://www.irenescorner.com.
Do not alter or copy, please. It is NOT public domain..
It's just for me to exchange with friends. Thank you !

Below is my Card 2005. Click on it to save.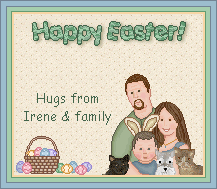 Click HERE to save my Easter Card 2003/2004
and HERE to save my Easter Card 2001/2002
Nothing in this site is Public Domain. Graphics are copyrighted by various artists and are used with permission.
Please, click on the links above to visit the websites were you can download the graphics from. Do not save anything from my pages, please!