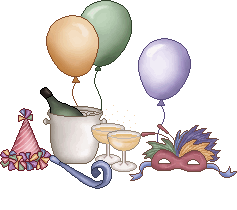 When a new year begins, we have new dreams and hopes. When the year ends, we realize we didn't do all we wanted to. Time flies so fast that when we least expect, today has already become past, so let's not forget to show our friends and family that we love them. Let's put our sorrows and pain behind and let kindness and love abound. Let's celebrate life, friendship and love. Let's enjoy life as best as we can because each moment is never the same. Let's seize time with our families all together, because these moments won't last forever. And never wait until tomorrow to do what we can do today. Soon our last chance may be gone because time never waits.
May the coming year be full of hope, happiness and love to everyone.

People celebrate the coming of a new year with happiness and joy. It's a time for love and peace for the whole world. In Brazil, our tradition is to dress up in white on the New Year's Eve because white stands for peace, which is what most people want in the coming year. Some people like to use yellow and red too as the yellow stands for richness and gold and red for passion and love. While Christmas is a family event, the new year is a big party celebration. Summer begins on December 23rd, so many people travel to the seaside to spend the 31st. Every year there is a beautiful fireworks show at the famous Copacabana beach in Rio de Janeiro. It gathers people from all over the country.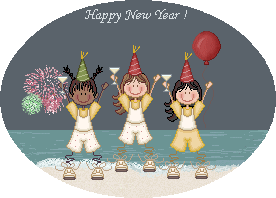 Happy New Year my friends !
Welcome to the New Year Corner of my website. These pages were created just for fun to share with
my family and my Internet friends different things about New Year's Eve. New visitors are welcome too.
Use the links on the table below to navigate through my New Year pages. Enjoy!
New Year Menu
Click on the links on the table above to navigate through my New Year pages.
Click on "Back to the New Year Menu" to return here, or click on "Back to the Holidays Quilt" link below to see another holiday. Have fun!
:: Back to the Holidays Quilt ::

This page was created on: December 23, 2001.
Last updated on: December 29, 2008.

[ Site Menu ] [ Home ]

Graphics by by Irene, Helena and www.graphicsbygrace.com.
Please, note that Graphics by Grace is not online anymore.
Nothing in this site is Public Domain. Graphics are copyrighted by various artists and are used with permission.
Please, click on the links above to visit the websites were you can download the graphics from. Do NOT save anything from my pages, please.