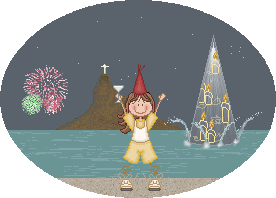 New Year Greetings from Irene's Country Corner

"Welcome to the New Year! I hope it
will be the happiest you've ever known,
and that it will be a year filled with
dreams come true.

This is such a perfect time to think of
wishes you want to turn into realities
and goals you want to reach. It takes
a lot to set your sights on a distant
horizon and to keep on reaching for
those goals. It takes a lot... of courage
and hard work, believing and achieving,
patience and perseverance, inner
strength and gentle hope. It takes a
lot of giving it your best and doing the
fantastic things you do. But most of all...

It takes someone
as wonderful
as you."
- Collin McCarty -
Here is my New Year card for my Internet friends. If you post it in your pages,
please link it back to http://www.irenescorner.com.
Do not alter or copy, please. It is NOT public domain.
It's just for me to exchange with my Internet friends. Thank you !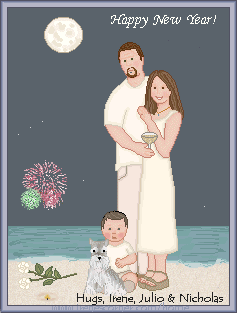 My card from 2005 onwards. Click to save.

These are my old New Year cards.
| | | |
| --- | --- | --- |
| | | |
| My Card 2002 | My Card 2003 | My Card 2004 |

:: Back to the New Year Menu ::

This page was created on: December 14, 2002.
Last updated on: December 30, 2008.

[ Site Menu ] [ Home ]

Graphics by Irene, Helena and www.graphicsbygrace.com
Please, note that Grace's website is not on line anymore.
Nothing in this site is Public Domain. Graphics are copyrighted by various artists and are used with permission.
Please, click on the links above to visit the websites were you can download the graphics from. Do NOT save anything from my pages, please.