New Year Traditions in Brazil

New Year's Eve happens during Brazil's summer, providing a very pleasant atmosphere for outdoor celebrations. Copacabana Beach is the most popular destination and is the biggest meeting point at midnight every year.

The beautiful New Year's Eve fireworks display at Copacabana beach is a special event. It lasts for almost thirty minutes. Fireworks are placed on the boats anchored along the beach at a safe distance from the festivities.

To celebrate the New Year a variety of entertainment shows are hosted on the beach along with free live music to enhance the mood of festivity. The celebration continues late into the night and millions of people come together to celebrate the New Year filling each and every space on the beach and the sidewalks. The beach kiosks, bars and restaurants remain open during the whole night.
New Year Eve at Copacabana beach - Dec 31, 2002

Brazilians have very strong traditions related to the New Years holiday, all having to do with bringing good luck and fortune. The most popular tradition is to dress in white and new clothes on New Year's Eve in order to bring good luck and peace for the year that will follow. Another Brazilian New Year Eve tradition is eating lentils to bring good wealth and fortune in the year to come and eating grapes making wishes.

The mixture of Brazilian and African cultures can be seen during the celebrations. According to some popular beliefs, Iemanjá, the Afro-Brazilian goddess who protects the sea, can make peoples wishes come true. Because of that, many people go to the beach to pay homage to Iemanjá. Blue and white boats filled with flowers and other offerings are left to the sea goddess. People also light candles in the sand on the beach and throw flowers to Iemanjá on the water.
| | |
| --- | --- |
| | |
| December 31, 2007 | December 31, 2007 |
Our New Year pictures
December 31, 2002

The fireworks beginning at midnight in Barra da Tijuca beach to celebrate the coming of the new year. Lots of people gathered on the sidewalks and on the beach. The street alongside the beach is closed for traffic on the 31st in the evening.
| | |
| --- | --- |
| | People at the beach, most dressed in white clothes following the tradition. |

December 31, 2004

On the right, the fireworks beginning at midnight in Barra da Tijuca beach. Below, our New Year dinner and desserts.
People gathered at the beach and on the sidewalk along the beach celebrating new year.
The same beach on the day after, a beautiful summer day to welcome the new year.

December 31, 2005

On the right, our table set for the New Year dinner and below, the fireworks beginning at midnight in Barra da Tijuca beach.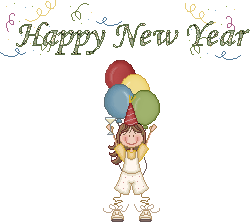 :: Back to the New Year Menu ::

This page was created on: December 6, 2003.
Last updated on: December 30, 2008.

[ Site Menu ] [ Home ]

Graphics by Irene, Helena and www.graphicsbygrace.com.
Please, note that Grace's website is not on line anymore.