- Teacher's Day -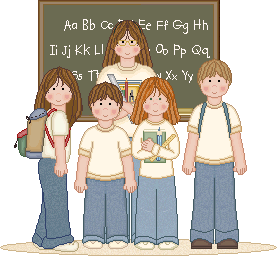 Teacher's Day is always celebrated on October 15 here in Brazil. It's a special holiday for honoring teachers, a day that is dedicated to the hard work that is input by the teacher all year long, a day that is a complete tribute to the teachers. Schools are other teaching institutions do not open on this date. Children use to give their teachers presents, flowers or cards on the last day of class before Teacher's Day.

Origins of Teacher's Day in Brazil

Acccording to researches Brazil had, in 2004, around 1,5 milhão of teachers, whose function is not only to transmit their knowledge but also teaching the students show to study, help them develop themselves socially, teaching them peace, hope, solidarity, courage and respect for others.

The origins of Teacher's Day in Brazil dates back from October 15, 1827, when D. Pedro I, emperor of Brazil, issued a decree creating the elementary teaching in Brazil.
Because of the importance of this decree, the date began to be celebrated in the 30's. In 1963, it became a national day to celebrate teachers in Brazil

Teacher's Day Poems

Teacher's Prayers
Teacher's Day Adoptions
Dedication to my Teachers
Teacher's Day Cards
Empty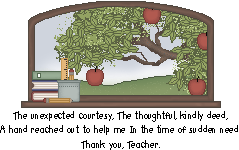 Hebrew Proverb
"A child is not a vessel to be filled, but a lamp to be lit".
~ Graphics purchased at Graphics by Irene ~ Buttercup Graphix ~
Nothing on this page is Public Domain and cannot be downloaded from here. Please, click on the links above. Thanks !