| | | |
| --- | --- | --- |
| | Fall Poetry | |
Autumn Leaves
" Leaves in the autumn come tumbling down,
Scarlet and yellow, russet and brown,
Leaves in the garden are swept in a heap,
Trees are undressing ready for sleep."
~ Author Unknown ~

Leaves
" In autumn when the trees are brown
The little leaves come tumbling down
They do not make the slightest sound
But lie so quietly on the ground
Until the wind comes puffing by
And blows them off towards the sky."
~ Author Unknown ~
Leaves Are Falling
" Leaves are falling all around-
Red, yellow, orange and brown.
Twirling, swirling to the ground-
Look how many leaves I've found."
~ Author Unknown ~


October
" October's the month
When the smallest breeze
Gives us a shower
Of autumn leaves

Bonfires and pumpkins,
Leaves sailing down -
October is red
And golden and brown."
~ Author Unknown ~

The Mist and All
" I like the fall,
The mist and all.
I like the night owl's
Lonely call -
And wailing sound
Of wind around.
I like the gray
November day,
And bare, dead boughs
That coldly sway
Against my pane.
I like the rain.
I like to sit
And laugh at it -
And tend
My cozy fire a bit.
I like the fall -
The mist and all."
~ Dixie Willson ~

Autumn
" I would have to say that
It's my favorite time of year.
The days becoming cooler now,
Fall is finally here.

The leaves are gently falling
And turning awesome shades.
Look around and see the beauty,
That God alone has made.
If you take the time to listen,
You'll hear their laughter ring.
The kid's are rolling in the leaves.
What a happy sound it brings.

This time of year brings thoughtfulness,
On which we can reflect
And time to spend with those we love.
A time to reconnect.

Hold your family close to you,
Autumn's finally here.
So much to be thankful for.
It's my favorite time of year."
~ Tania Kanae ~

September
" The goldenrod is yellow;
The corn is turning brown;
The trees in apple orchards
With fruit are bending down.

The gentian's bluest fringes
Are curling in the sun;
In dusty pods the milkweed
It's hidden silk has spun.
The sedges flaunt their harvest
In every meadow nook;
And asters by the brook-side
Make asters in the brook.

From dewy lanes at morning
The grapes' sweet odors rise;
At noon the roads all flutter
With yellow butterflies.

By all these lovely tokens
September days are here,
With summer's best of weather,
and autumn's best of cheer."
~ Helen Hunt Jackson ~
October Leaves
" October leaves are lovely
They rustle when I run
Sometimes I make a heap
And jump in them for fun!
Autumn leaves float quietly down
And form a carpet on the ground
But when those leaves are stepped upon
Listen for the crackling sound!
When you see leaves in the fields,
Gold and glowing in the sun,
It's time to say goodbye to summer
And hello to autumn fun."
~ Helen Hunt Jackson ~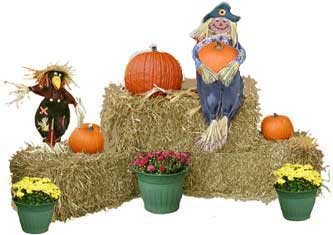 :: Page 1 :: Page 2 :: Page 3 :: Page 4 :: Page 5 ::

Click below if you have clicked on Fall Tour on the Fall Main Page.
| Continue the Fall tour |
Nothing in this site is Public Domain. Graphics are copyrighted by various artists and are used with permission.
Please, click on the links above to visit the websites were you can download the graphics from. Do NOT take anything from my pages, please.