Good Friends I met through the Net
What Would Life Be
"What would life be with out friends like thee
I'll tell you, like no longer being free.
Imagine what life would be so sad and blue
To go through life without that special you.
And I know we live so far away
Through the internet we are like castaways
Never get to touch or hug you for this I only pray
For some day I hope we can meet
To hug and laugh and dance to the beat
I know this would be a treat
For now this is all I see
Is my good friend here with me
Just think what life would be
Without friends like thee."
~ Scott Wheeler, Sr ~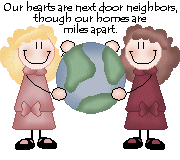 The Internet is wonderful. Since 1997 and specially after I created my web home in October 2000, I met wonderful people from all over the world. Some of these became very dear to me and I am very happy to call them my friends. We exchange emails often, chat, talk on the phone, exchange presents etc. Some I have even met in person. It was great! It is incredible how people can become so close without meeting in person. You are always in my heart my friends. Love you all !
Thank you for your friendship.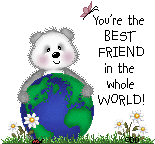 I used to have a page for many friends I met on the Internet where I displayed cards and other gifts I received from them, but due to lack of time to keep these pages updated, I had to remove them. I am sorry my friends, but as we are often in touch, you know that you are always in my heart. I keep all the gifts you send me which I do not post in a folder in my pc. :o)
Thank you Lu, Wanda Lúcia, Cherye, Annette, Karin, Elizabeth, Svanita, Therese, Anna, Anita, Kay, Nicole, Iara and so many other nice people I met for your friendship.

:: Back to the Internet Corner Menu ::

[ Site Menu ] [ Home ]
Page created on: August 10, 2001.
Last updated on: July 9, 2008.
~ Graphics by Grace (www.graphicsbygrace.com) ~ Graphics by Irene ~ Graphics by Lalla (http://clix.to/lalla) ~
~ Heartfelt Graphics (www.heartfelt-graphics.com) ~ Graphics by Tracy (www.graphicsbytracy.com) ~
Sigtag with two bears copyright Michelle (www.primsicalcuties.com) and a gift from my friend Anna. Thank you!