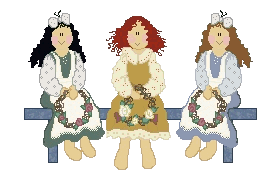 Other dear Net Friends
Most of these friends I met in person and we are still often in touch. :o)
Claude, Cathérine and their kids François and Rémi and Claude's father André, from Villars-sur-Glâne,Switzerland.
Claude and I met each other in icq in 1998. We became good friends and when he knew I was on my way to Europe, he kindly invited me to spend some days in Switzerland. His whole family is fantastic. They were all so kind and I'll always remember with great joy the days we spent together. They showed me the most beautiful places I had ever seen in my whole life and explained me every detail of everything, making this trip very educational. I really fell in love with Switzerland and can't wait to be there again. :o)
Merci pour tout ce que vous avez fait pour moi lors de mon passage en Suisse chers amis !
You were great hosts for me and you are some of the nicest people I've ever met. Couldn't have asked for better friends. :o)

Olivier and Valérie from Meix-le-Tige, Belgium.
Olivier and I met each other in icq in 1998. We became very good friends and when I went to Belgium I had the pleasure to meet him and his nice wife Valérie. They showed me many beautiful places and made my stay in Belgium very pleasant.
Thank you both for being very kind hosts for me there.
Merci pour tout ce que vous avez fait pour moi lors de mon passage en Belgique ! :o)
And thanks to their friends who visited me in Rio:
Pierre, Didier, Frèd, Gelica, Nathalie and Anne
I had a great time with you here. Merci !
Carole, from Le Quesnoy, France.
Carole and I have been pen pals for many years. We started writing to each other when we were still teenagers and we still keep in touch. I was very happy to meet her personally.
Dear Carole, I loved to meet you ! We've been pen pals since 1984 and I hope we will be friends for good. Merci beaucoup ma chère amie. :o)
Martin, from Sweden.
Martin and I met in icq in 1998. He was one of the first persons I met and we used to chat every week. We became very good friends, spoke on the phone sometimes and I hope we can meet one day.
Thanks for being a very good friend. Sorry if I haven't been here so often. We need to chat more in ICQ as we used to do in the old times.
Chris, from Rotterdam, Netherlands.
Chris and I met in icq in 1999. We met personally in Europe and here in Brazil. He showed me lots of places in Rotterdam and was a great tour guide. I really enjoyed my stay in the Netherlands. :o)
Dear Chris, you were a terrific host in Rotterdam and you are a very dear friend to me. I also had a great time when you came to Rio. You're a very dear friend to me.
Looking forward to meeting you again. :o)
Maija, from Oulu, Finland.
Maija was the first foreign person to write me a letter. I can still remember when my mother said that a letter to me had arrived from Finland. I was very excited and couldn't wait to read. We exchanged lots of pictures and gifts through the years, spoke on the phone a few times and also taught each other a little Portuguese and Finnish in our letters.
Dear Maikki, we've been pen pals and very good friends since 1983 and I'm very happy to have you as a friend. We haven't met yet, but I'm sure we will one day. All best to you and your wonderful family. :o)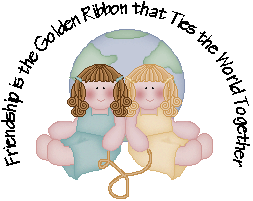 Ko Banen, from Amsterdam, Netherlands, living in Australia.
Ko and I began to write each other after he first signed my guest book. I returned his visit, signed his gb too and then he emailed me. From this day on we have been writing to each other often. He was born in the Netherlands, but moved to Australia many years ago. He's 72 years old and made a site about his family and his life.Dear Ko, it's was such a nice pleasure to meet you. I wish all best to you and Maria. :o)
Betty Jeppesen & Ruth Creasy from the USA
Betty, from Minnesotta, first emailed me around the end of 2005. She and her friend Ruth from California were planning a trip to Rio de Janeiro and wanted some information from a local resident. I offered to help them, called many places to ask for information in order to help them organize their trip and when they finally arrived in Rio in April 2006 we met in person. I took them for a two-day sightseeing tour in Rio and we had a great time here. Hope they return one day. :o)
<< Back to the Friends Page <<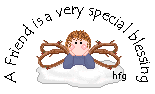 [ Site Menu ] [ Home ]
Page created on: August 10, 2001.
Last updated on: July 9, 2008.
~ Graphics by Irene ~ Graphics by Lalla (http://clix.to/lalla) ~ Heartfelt Graphics (www.heartfelt-graphics.com) ~
~ Graphics by Tracy (www.graphicsbytracy.com) ~ Marsha's Graphic Garden (http://graphicgard.topcities.com) ~ Graphics by Grace (www.graphicsbygrace.com) ~