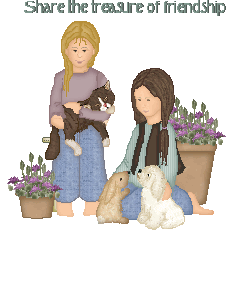 Unseen Friend
"Although you are a friend of mine
and letters we exchange,
I wouldn't know you on the street,
and doesn't that seem strange?
You hold a place within my life,
unusual and unique;
We share ideals and special dreams,
and still, we do not speak.
I picture what I think you are,
perhaps you picture me.
An intriguing game for both of us
for someone we can't see.
So for this friendship we possess,
we owe this mail a debt,
Perhaps the charm lies in the fact
that we have never met."
~ Iceman ~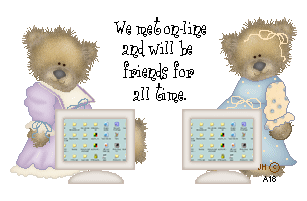 Screen Friends
"My husband has finally gone to work
My children have finished their play
they've gone to bed their stories read
Now it's my time of day.
I've had one of those days
you know what I mean
so I sit back and relax
and turn on my screen.
I'll talk to all my friends
who know just what to say
to make my stresses go
and my troubles fade away.
My friends you're always there for me
whenever I feel blue
and though we've never met before
I know our friendships true.
And although we haven't been friends for long
in this short time it seems
we shared so many things already
our hopes, our fears, our dreams.
We come from different walks of life
but we share a common bond
and it's time to say that of all of you
I've grown so very fond.
So thank you friends for being there
whenever I've needed you
I know you're always there for me
and you know I'm there for you."
~ Miasartiff ~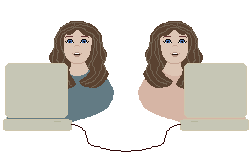 << Back to the Friends Page <<

[ Site Menu ] [ Home ]
Page created on: August 10, 2001.
Last updated on: July 9, 2008.
~ Graphics by Grace (www.graphicsbygrace.com) ~ Graphics by Irene ~
~ Poems on this page are from: Net Poets ~
Site Closed

http://www.gabyscottage.com

Site Closed

http://paulasadoptionboutique.com

Site Closed

http://www.momentsoftranquility.com
Nothing in this site is Public Domain. Graphics are copyrighted by various artists and are used with permission.
Please, click on the links above to visit the websites were you can download the graphics from. Do NOT save anything from my pages, please.