Happy Independence Day !

Brazil was discovered by the Portuguese navigator Pedro Álvares Cabral on April, 22 1500. Thirty years later, the Portuguese king decided to begin the settlements in order to protect the territory and keep the foreigner invadaders away.
In 1532, São Vicente village, the first formal Portuguese settlement, is founded by the Portuguese settler Martim Afonso de Sousa and there he begins the sugar cane plantations.
In 1550 the African slave trade is introduced in Brazil to substitute the "Indian" slave labor.
In 1565, Estácio de Sá, Brazil's third governor nephew, comes to Brazil in order to help his uncle in the battle against the French. Between 1612 and 1654 Brazil is often invaded by the French and the Dutch. Estácio de Sá arrives at the present Praia Vermelha located in the Guanabara Bay and founds near the Sugar Loaf mountain the São Sebastião city (Saint Sebastian city) on March 1. The city was later renamed São Sebastião do Rio de Janeiro, and some years later only Rio de Janeiro.
In 1670, the "Quilombo dos Palmares" (place where African slave refugees used to hide) reaches a population of 50.000 refugees. An African called Zumbi dos Palmares is their great leader. In 1695 Palmares falls and Zumbi's head is cut off.
In 1763, the capital of Brazil is transferred from Salvador to Rio de Janeiro due to its better localization in relation to the region of the mines that should be protected to avoid foreign invasions.
In 1793, Joaquim José da Silva Xavier, known as "Tiradentes" (Tooth Puller), because among his many professions was dentistry, is hanged for leading a movement for the separation of Brazil from Portugal. The other members of the movement are arrested. Tiradentes becomes a martyr for the cause of the independence.

In 1807, Napoleon's troops invade Lisbon. One day before the invasion, the prince regent Dom João moves with the Royal Family to Rio de Janeiro.
In 1815, King Dom João VI raises Brazil to the status of Kingdom and Brazil is known as United Kingdom of Portugal, Brazil and Algarve.
In 1820, revolutions in Lisbon and O Porto are the crucial issue for the King's return to Portugal and King Dom João VI leaves Brazil and sails for Lisbon in 1821. His son, the prince regent Dom Pedro stays in Brazil.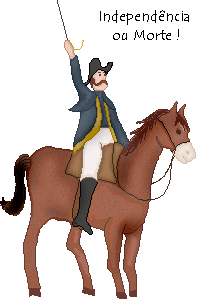 Pedro and his advisers realized that revolutions in other Latin American countries were encouraging a movement for national independence in Brazil. A new and aggressive Cortes (parliament) in Portugal contributed to the demand for independence through a series of inept actions that offended many influential Brazilians. The Cortes further alienated Brazilians by attempting to restore Brazil to colonial status. Pedro and his advisers decided to take control of the movement for independence. On September 7, 1822, after receiving orders from the Portuguese Cortes curtailing his authority in Brazil, Dom Pedro, supported by the Brazilian José Bonifácio de Andrada e Silva, one of his advisers, he declared Brazil's independence by shouting "Independência ou morte!" (Independence or death) in the São Paulo state. Thus Brazil became one of the few Latin American colonies to make a peaceful transition to independence.
On October 12, Dom Pedro returns to Rio de Janeiro and is proclaimed the first emperor of Brazil as Dom Pedro I. On December 1, Dom Pedro I is crowned. His greatest challenge was to keep this new nation of continental dimensions from fragmenting into several countries, as had happened in Spanish America. He counted with the help of Lord Thomas Cochrane, an admiral who had been thrown out of the British navy, to enforce his authority in Brazil. Cochrane defeated the small Portuguese fleet and crushed separatist revolts in the major regional centers along the coast. With a small hired navy and very few battles, Brazil retained its unity after gaining its independence. Portugal recognized Brazil's independence in 1825.