Welcome to my Collectibles Corner!

This corner used to have over 100 pages where I displayed the internet adoptables I collected from friend's sites. But in order to make room for new pages in my website, I removed almost them all from the Internet in 2008. I still collect these cute adoptables, but I post them only in my offline pages. In the table below you can find links to the few pages that remain in my website.

I still keep in this corner the pages I created to display photos of other things I collect, however they may be of no interest to most visitors as they were created just for me to keep records of the books and figurines I collect.

Below you will find links to all pages in this corner. When you finish seeing one page, click on "Back to the Collectibles Corner" link to return to this menu if you want to see more pages in this corner.

If you want to explore another corner of my web home, click on "Site Menu" to return to the main menu on the main page of my web home. Enjoy your stay!
Collectibles Corner Menu

<< Back to the Site Menu <<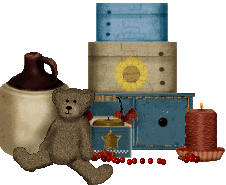 : Home :

This page was created on: January 26, 2002.
Last updated on: December 6, 2008.
~ Graphics by Irene ~ Country Luv'n Clipart (www.countryluvnclipart.com) ~ Kim's Whim (www.kimswhim.com) ~
~ Sista Scribbles (www.geocities.com/sistas_scribbles) ~ Graphics by Hanna (http://hannahs.topcities.com) ~
Best viewed with 1024 x 768 pixels resolution.
Nothing in this site is Public Domain. Graphics are copyrighted by various artists and are used with permission.
Please, click on the links above to visit the websites were you can download the graphics from. Do NOT save anything from my pages, please.