My dolls collection
My first Holly Hobbie cloth dolls



| | |
| --- | --- |
| I have always admired my grandmother's dolls collection since I was a kid. She had a very nice collection and she used to buy a typical doll from every country she went to. She often told me where she had bought them and a little bit about the countries where they came from. I have very good memories of that time... | |
Some of my grandmother's dolls from Austria, China, Portugal and Poland.
My grandma`s collection.
When I was a little girl, I never really played with dolls, I liked much more action toys, cars, planes, trains, games, Lego and Playmobil. Although I had a few dolls, they were mainly for display in my bedroom. Today I'm a collector and I am very happy every time I am able to find a cute addition to my collection.
| | |
| --- | --- |
| I remember I had three dolls that I loved when I was a kid, one was a hard plastic doll with a puppy that walked and was operated with batteries (from Brazil) - I think my passion for dogs started with this doll. :) The other one was a huge cloth doll (bigger than me at the time) that my aunt brought me from Europe. She had red hair and red and white stripped legs, a little bit in Raggedy Ann style. The one I liked most was a tiny Holly Hobbie Heather doll that came with a tote bag that my aunt also brought for me from a trip to the USA. I carried her everywhere. | |
| | |
| --- | --- |
| | When I was a little girl, I also collected some tiny soft body dolls with plastic heads from Brazil, named Fofolete. They were produced by the extinct Brazilian Trol toy company. These cute dolls were 3 and 1/2 inches tall and they came inside small boxes that resembled match boxes. The boxes were almost 3 inches long and almost 2 inches wide. I had all the 12 different boxes designs produced and all almost doll colors available. I think these dolls were the first things I started to collect. |
But my mother gave away my Fofoletes and I was only able to save two, which for my luck, she didn't find among my old toys (the red and orange ones on the right in this picture). I have them since I was less than 10 years old. A very long time ago...

In June 2005, I purchased a few more in a Brazilian auction site affiliated to eBay and I'm very happy to have a few more Fofoletes. They bring back very good memories of my childhood.
| | |
| --- | --- |
| | I began collecting Raggedy Ann and Andy dolls in 2005 and I have about 12 of them. Raggedy Ann and Andy are not known in Brazil, but I fell in love with them the first time I saw them many years ago. The Raggedy Ann in the picture is the first one that I bought. |


Holly Hobbie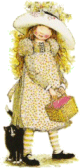 I am a Holly Hobbie fan since I was 5 or 6 years old. I used to collect Holly Hobbie stationary and stickers when I was young. I had one very large Holly Hobbie framed printing in my bedroom which I loved and I think that my passion for Holly Hobbie's artwork started with this cute print of a girl in a yellow outfit, holding a basket with a black cat next to her.
Today I collect everything from Holly Hobbie and I have many nice items that I often purchase on eBay from times to times. I love not only Holly Hobbie`s artwork, but everything that has Holly Hobbie on it. :o)


A little bit about Holly Hobbie

Holly Hobbie is the real name of the American watercolorist who created the beloved gingham-and-calico-dressed bonnet girl, named for her talented creator. Holly Hobbie, the artist, was born Denise Holly Ulinskas in Connecticut in 1944. In 1964, she married Douglas Hobbie and they had three children, Brett, Jocelyn, and Nathaniel. Around the time Holly's first child was born, she submitted some of her artwork to American Greetings at the encouragement of a friend.
| | | |
| --- | --- | --- |
| | The Holly Hobbie character, who personifies childhood innocence, made her first appearance on a line of American Greetings cards in 1967. The first Holly Hobbie rag dolls began to appear around 1974, manufactured by Knickerbocker, which were a popular toy for young American girls for several years. They were dressed in a blue dress with a patchwork quilt pinafore and a blue bonnet, measuring 9 inches tall. Later came the 15 and 28-inch versions as well. Knickerbocker also produced a line of Holly Hobbie's brother (Robby Hobbie) and Holly's friends Heather, Carrie and Amy. Years later, companies such as Amtoy, Meritus, Applause, Mattel and American Greetings relaunched the Holly Hobbie cloth dolls. The artist Holly Hobbie lives in Conway, MA. In 2006 Holly Hobbie dolls and figurines were once again being marketed by American Greetings in associated with Carlton Cards. | |
Holly Hobbie's bonnet girls have continued to delight people of all ages over the years and will continue to be loved and admired for many more generations to come.

Holly Hobbie Cloth Dolls by the Knickerbocker Toy Company
The Knickerbocker Toy Company was founded around 1850 in Albany, New York and started out manufacturing educational toys. The name 'Knickerbocker' derived from the nickname for the citizens of New York. The name is a reference to the baggy trousers the original Dutch settlers wore. In 1968 the company moved to Middlesex, New Jersey. At the end of the 1980's the company was closed down. Knickerbocker produced a line of Holly Hobbie, Heather, Amy, Carrie and Robby Hobby dolls in different sizes. Holly, Heather and Amy come in 5, 9, 16 and 28 inches tall. Carrie in 9, 16 and 28 inches tall. Robby in 9 and 16 inches toll.

Here are some of my Holly Hobbie and friends rag dolls, manufactured by Knickerbocker in 1974. I have both the 9 inches and the 16 inches versions of each of them. I also have Holly Hobbie, Amy and Heather in the 5 inches versions.
Holly Hobbie - patchwork dress
with blue bonnet.

Heather - beige flowery dress with
ivory pinafore and matching bonnet.

Amy - flowery green dress with green or
beige pinafore and matching bonnet.
Carrie - red dress with yellow stars and
flowery pinafore and matching bonnet.

Robby Hobbie - red suit with yellow stars,
stripped blue overall and hat.
Collectors Edition Holiday Holly Hobbie, manufactured by AmToy Inc. 1988. It has two versions: one with red calico dress and red hair (on the left) and another one with green calico dress, black hair and darker skin (on the right). I bought both of them on eBay.
Heather on the left and Holly Hobbie on the right. Both are 26 inches. I bought these two on eBay in 2006.
| | |
| --- | --- |
| | |
| Bicentenial edition Holly Hobbie | Pastel colors Holly Hobbie dolls (12 and 9 inches) |
| | |
| --- | --- |
| This Holly Hobbie rag doll was manufactured by Meritus for Holly Hobbie's 25th anniversary. I purchased this one on eBay in July 2005 and it is a mint doll in its great condition original box. | |
| | |
| | |
| --- | --- |
| | This Holly Hobbie rag doll was manufactured in 2005 This is a 12 inches version. Nice, but in my opinion, it does not have the charm that the old ones from my childhood have. However I couldn't help buying and I have three of the new version dolls. :o) |
| | |
| --- | --- |
| A very old porcelain doll which belonged to my grandmother. | A present from my German friend Nicole for Christmas 2002. |
| | |
A true collector can never have too many... :o)