| | | |
| --- | --- | --- |
| | Amsterdam | |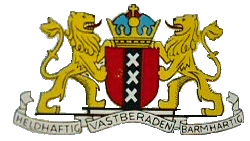 Amsterdam, seaport and principal city of the western Netherlands in Noord-Holland (North Holland) is the country's constitutional capital. The real seat of government, however, is in Den Haag (The Hague).
Amsterdam is divided by more than 80 km (more than 50 miles) of canals into about 90 islands joined by about 400 bridges. Almost the entire city rests on a foundation of piles driven through peat and sand to a firm substratum of clay.
Amsterdam is one of the most beautiful and nice cities I've ever been to. It has many museums, restaurants and beautiful canals, a really nice place to visit in Europe.
| | |
| --- | --- |
| | That's me on the Blauwe Brug (Blue Bridge), next to Waterlooplein, where the Vlooinmarkt (Flea Market) is located. The bridge tries to resemble the Alexander III bridge in Paris, but is of course, much smaller. |
| | |
| --- | --- |
| In front of a canal in Amsterdam. | |
Leidseplein
| | |
| --- | --- |
| That's me at Leidseplein, a famous square in Amsterdam, in front of the Häagen-Dazs ice cream parlor. | |
| | |
| --- | --- |
| | In front of the Heineken Hoek, also at Leidseplein. |
| | |
| --- | --- |
| Rembrabdtsplein, next to the club Escape, very well known night club and a great place to go at night in Amsterdam. | |
| | |
| --- | --- |
| | Bloemen Markt - Flower Market, next to Leidsestraat. |
| | |
| --- | --- |
| The Erotic Museum in the Red Light district in Amsterdam. | |
| | |
| --- | --- |
| | In front of the Magna Plaza. |
| | |
| --- | --- |
| The Madame Tussaud Museum, the wax museum, located at Dam Square. | |
| | |
| --- | --- |
| | Picture taken from the bridge in front of the Rijksmuseum. The Rijksmuseum is the largest museum for art and history in the Netherlands and it is world famous for its collection. The museum has five departments: Paintings, Sculpture and Applied Arts, Print Cabinet, Asian Art and Dutch History. The centerpiece of the collection is the renowned paintings from Holland's Golden Age. In the museum there are works from Vermeer, Frans Hals, Jan Steen and Rembrandt. |

:: Next Page ::