Oh ! Be careful. You took te wrong way to the library. The ghosts will try to scare you. They like to play tricks sometimes. The good witch will try to help you. She knows a secret path that will take you to the library. There are some nice poems for you to read. Keep scrolling to find her and she'll help you find the way. Enjoy !


Whooooooh !!

BOOOOOOO !!!!!!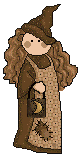 Shhh... beware of the ghosts.
Follow me to the library.

Click below if you have clicked on Halloween Tour on the Halloween Main Page.
| Continue the Halloween tour |
Nothing in this site is Public Domain. Graphics are copyrighted by various artists and are used with permission.
Please, click on the links above to visit the websites were you can download the graphics from. Do NOT take anything from my pages, please.