| | | |
| --- | --- | --- |
| | Halloween Poems | |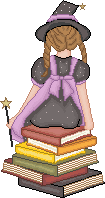 I have gathered some poems and songs for Halloween. Hope you enjoy.

"Halloween's a sudden BOO !!
And just as quick a scream:
Laughing in the scary dark,
Loving friendly fright.
On Halloween, witches come true;
Wild ghosts escape from dreams.
Each monster dances in the park,
Eating candy like a shark-
Now kiss and say goodnight !"
~ Nicholas Gordon ~
This is Halloween

"Goblins on the doorstep,
Phantoms in the air,
Owls on witches' gateposts
Giving stare for stare,
Cats on flying broomsticks,
Bats against the moon,
Stirrings round of fate-cakes
With a solemn spoon,
Whirling apple parings,
Figures draped in sheets
Dodging, disappearing,
Up and down the streets,
Jack-o'-lanterns grinning,
Shadows on a screen,
Shrieks and starts and laughter--
This is Halloween !"

~ Dorothy Brown Thompson ~
A bald-headed ghost

"A bald-headed ghost
Drank some witches' brew,
And on top of his head
A strange thing grew.

It was pointed and tall
And black as a bat
With stringy long hair
Where his head was flat.
The sad little ghost
Didn't want any hair
Or a black pointed hat
So he said, "Witch beware !"

Then he chanted some words
With a spell-casting switch
And gave Halloween Night
A bald-headed witch."

~ Barbara M. Hales ~
Lazy witch

"Lazy witch,
What's wrong with you?
Get up and stir your magic brew.
Here's candlelight to chase the gloom.

Jump up and mount your flying broom.
And muster up your charms and spells
And wicked grins and piercing yells.
It's Halloween! There's work to do!

Lazy witch,
What's wrong with you?"

~ Myra Cohn Livingston ~
Halloween

"Tonight is the night
When dead leaves fly
Like witches on switches
Across the sky,
When elf and sprite
Flit through the night
On a moony sheen.

Tonight is the night
When leaves make a sound
Like a gnome in his home
Under the ground,
When spooks and trolls
Creep out of holes
Mossy and green.
Tonight is the night
When pumpkins stare
Through sheaves and leaves
Everywhere,
When ghouls and ghost
And goblin host
Dance round their queen.
It's Halloween !"

~ Harry Behn ~
Ghosts and Witches

(Tune: Twinkle, Twinkle Little Star)

"Ghosts and witches, goblins too!
Halloween is just for you
Everyone dressed up today
Trick or treaters on the way
But be careful what you do
One of them might scare you.
Boo !" (Children yell)

~ Judy Hall ~
Little Jack Pumpkin Face

"Little Jack Pumpkin Face,
Lived on a vine,
Little Jack Pumpkin Face
Thought it was fine.

First he was small and green,
Then he was big and yellow,
Little Jack Pumpkin Face
Is a fine fellow."
T'was Halloween Night

"T'was Halloween night and all through the house
Creatures were stirring, bugs, cats, and a mouse
The pumpkins were carved into faces with care
In hopes that a candle would soon be placed there
With ma in her apron fixing platters of sweets
We'd settled our brains for a long night of treats
When out on the lawn there arose such a roar
I sprang to my feet and ran to the door
And what to my wandering eyes should appear
But a red deviled monster with a big yellow spear
Like a bat from a cave I ran - still he came
I thought I'd escaped but he called out my name
Mr. Thorn - Mr. Thorn - please don't be afraid
It's me, little Jimmy in this masquerade
The moon on the lawn glowed a bright orange cast
And I thought I saw witches on brooms flying past
White sheet like things floated, they looked just like ghosts
But the skeleton with bones clacking, it scared me the most
Someone looked like a vampire his face a ghastly pale hue
I finally realized it was Harry all covered with glue
That kid like a spider so lively and quick
I knew in a moment it was my neighbor's son Nick
One sweet little princess, so lovely was she -
Whatever was she doing in this strange company?
When all of the goblins pulled mask from there head
I knew that this night there was nothing to dread
Then this strange purple monster greeted me and I said, "Who are you?"
He gave me no answer just hollered Boooooooooo….
And putting a finger aside one large eye
He got in his space ship and flew to the sky
I knew I had never seen anything like that before
I watched him in wonder quickly shutting my door
But I heard him exclaim ere he flew out of sight
Happy Halloween to all - and have a real spooky night !"

~ Dolores Faye Thorn ~

| Next Page - The Raven, by Edgar A. Poe |

Click below if you have clicked on Halloween Tour on the Halloween Main Page.
| Continue the Halloween tour |