>
Before you go...

I would like to thank you for visiting me today
and wish you a "beary" nice day.


Hope you enjoyed your visit and had a nice time in my Brazilian Country Home.

It requires a lot of time and patience to maintain two sites and I hope I am doing it well. :o) When time allows, I often add new things. I always have new ideas and I wish I had more time to do everything, but I

hope you enjoyed what I have done and come back often.
Please, sign my Guest Book and tell me you were here. I do not have time to return all visits, but I always read your messages. :o) If you want to contact me, you can post a message in the message board. If you provide your email, I will answer back asap.

Hope to see you again soon and...

do not forget to bookmark. :o)

| | |
| --- | --- |
| | Please, do not forget to read THIS PAGE. It contains some important information about this site, the cliparts used here and other things. Thank you ! |


| | | |
| --- | --- | --- |
| Not on line anymore. | Not on line anymore. | |
Want to link to me ? Click on my banner and save it. Link it to http://www.irenescorner.com


Click below if you want to visit my Christmas site or my Graphics site.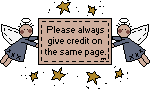 Not on line anymore.
This page was created on: July 4, 2001.
Last updated on: July 8, 2008.
Background music Flinders Street Station from Irwin's Ragtime|Stride|Swing|Novelty (http://www.members.aol.com/midimusic).
[ Back to the Site Menu ] [ Back to the Home Page ]
~ Backgrounds by Maryvel (www.heartfelt-graphics.com) and Graphics by Irene ~
Please, notice that Heartfelt Graphics and Melanie's Homespun Collections are not on line anymore. Thanks !
Nothing in this site is Public Domain. Graphics are copyrighted by various artists and are used with permission.
Please, click on the links above to visit the websites were you can download the graphics from. Do NOT save anything from my pages, please.