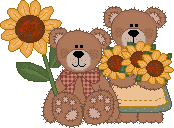 Page created on: November 3rd 2000
RESPECT ORIGINAL GRAPHIC ARTISTS !
~ How I started this page ~
Before becoming a graphic artist myself, I've always supported other original artists since I was introduced to the original graphics community, by placing logos to some support pages in my websites. These pages, most of them in English, provide all sort of information about issues of copyright respect and the importance of giving proper credit to artists. Although English is a universal language, some people do not speak it as well as others, so I thought that it would be a good idea if there was a support page in as many languages as possible.
~ How can you help ~
You can help supporting by downloading the logo below and placing it in your site with a link back to http://www.irenescorner.com/support . All I ask is that you do not alter it in any way and that includes changing its original width and height dimensions in your web page editor.
To save the logo, click on it and wait until another window opens, then right-click on the image and choose the "save as" option to download it to your hard drive. Please, do not direct link. Thank you !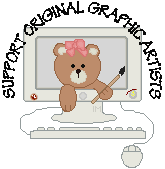 I have made a smaller logo if you think the one above is too large.

If you speak other languages you can also help by translating this page into the language (s) you speak. If you are interested, please contact me.
********************************************************
Many people from all over the world frequently create web sites with graphics for free download. However, some of the images they offer are not their own creations. By doing this they are illegally redistributing other people's work. Others, inspired by the beautiful sites they see on the web, start making graphics too, but unfortunately not everyone is original and some often copy other people's graphics to make their own.
There are many original artists from different countries who create original graphics and courteously allow us to use their creations in our sites under specific "terms of use" that must be read and followed if we make use of their graphics. But many people simply don't care about these "terms of use" and others don't even read them and do whatever they want with the graphics. They alter, copy or do not give proper credit to all authors. Some original artists offer their graphics to the public for free . Others require registration and sometimes charge a fee for the use of their graphics. Due to frequent copyright laws infringement, graphics theft and plagiarism, more and more artists have been asking for registration in order to protect their work. Unfortunately some have even closed their sites and the more people become aware of the importance of respecting and following their "terms of use", the more they will keep sharing their work with the world.
The web developer who uses unauthorized graphics or who doesn't give credit to the artists when creating a site using their graphics, is infringing copyright laws. Those who create sites offering free graphics which are not their own creations are illegally redistributing other people's work and this is also a serious copyright infraction, even if a linking logo to the site where the web developer got the graphics from is placed on the page. Only the original creator of the graphics can offer them for download. Only the original creator has the right to decide if the graphics are free for download or if there is a fee in order to allow other people make use of the graphics. Only the original author has the right to resize, re-colorize and change whatever he or she wants with the graphic that he or she created. People who do that without permission of the creator of the images are infringing copyright laws.
When someone decides to draw his or her own graphics, wouldn't these graphics be more especial if they weren't copied from other people's creations? Will honest people still like someone's graphics after they find out that they were copied from others?
Making graphics is very pleasant, but it requires a lot of hard work and no one likes to see their creations copied and signed by others. Unfortunately, one of my favorite artists, Grace from Countryside Heaven, had to close her site temporarily due to plagiarism, in October 2000. The person who forced her to do so wasn't courageous enough to admit she was wrong. Those who saw this person's site could clearly notice that she copied some of Grace's graphics and was claiming them as her original creations. She didn't recognize she was wrong and neither apologize and after some time she closed her site. But then I ask: if she really didn't do anything wrong, why would she close her site? I think the answer is obvious...
Try to imagine how a person who had rights violated felt when that happened... Imagine you painted something and then someone copied it and claimed as his or her own. How would you feel? Or even that you wrote a poem or a story and then you find it in someone's site as if it was written by this person. Of course you wouldn't like it. No one would.
So, please, if you like any graphic you see in any web page, don't forget to check the logos that come often at the bottom of the pages. If you click on each logo, you can visit their authors' sites. Do not steal them from the pages where you see them on. And in case you are using other people's graphics, please, do not forget to place a logo with a link back to the site where you got the graphic from, in every page you use the graphics. You are showing your respect for our work and helping original artists to keep their graphics sites on the web.
Try to create a folder with the artists name or the site's name on before downloading graphics, so you won't get lost when decorating your pages and will always know from which site they came from and will be able to always give proper credit.
You are making benefit not only for the graphic artists, but also to you and all your visitors if you give credits. By doing this you encourage more and more people to give credit where it's due (on the same page) and when you visit some other site and like the graphics, you will know where they have come from.
And don't forget that even only resizing a graphic to fit your web page better is also ALTERING. Instead of doing this, try to contact the graphic creator and ask if him or her can resize a especific graphic for you. Only the creators of the graphics are the ones who have the right to do so, and they can also refuse it if they want to. They were the responsible for the existence of that graphic and they have the right to keep them the way they want. So, if your request is refused, show some respect and look for a more suitable graphic to your page, don't ignore the creator's wishes just because you want that specific graphic used in your site and as the author of the graphic refuses to do the changes you need, you decide to do it yourself and use the graphic the way you want. You are violating rules and copyrights by doing this. You will certainly take more pride when giving proper credit to all artists whose graphics you use in your pages, and by respecting their rules.
And if you are thinking about drawing your own graphics too, don't copy, be original. You may think they aren't so beautiful in the beginning, but they are especial because you made them by yourself, and you didn't need to copy anyone else's work.
Hope other artists are forced to close their sites until people realize the importance of all this. Thank you very much for your patience in reading this message. If you agree with us and want to help supporting graphic artists, feel free to download the logos which are at the top of this page and place it on your site, then link back to this address: http://www.irenescorner.com/support
If you want to know more about copyright laws, click here.

Support logos drawn by me.
Backgrounds & Graphics from :


Content and layout © Irene. All rights reserved. Nothing on these pages is public domain.
Conteúdo e design de páginas © Irene. Proibida a reprodução total ou parcial. Nada nestas páginas é de domínio público.