Winter Poetry
"We have only this moment,
sparkling like a star in our hand
and melting like a snowflake.
Let us use it before it is too late."
- Marie Edith Beynon -
Snow-flakes
" Out of the bosom of the air,
Out of the cloud-folds of her garments shaken,
Over the woodlands brown and bare,
Over the harvest-fields forsaken,
Silent, and soft, and slow
Descends the snow.
Even as our cloudy fancies take
Suddenly shape in some divine expression,
Even as the troubled heart doth make
In the white countenance confession,
The troubled sky reveals
The grief it feels.
This is the poem of the air,
Slowly in silent syllables recorded;
This is the secret of despair,
Long in its cloudy bosom hoarded,
Now whispered and revealed
To wood and field."
- Henry Wadsworth Longfellow -

Stopping By Woods On A Snowy Evening
" Whose woods these are I think I know.
His house is in the village though;
He will not see me stopping here
To watch his woods fill up with snow.
My little horse must think it queer
To stop without a farmhouse near
Between the woods and frozen lake
The darkest evening of the year.
He gives his harness bells a shake
To ask if there is some mistake.
The only other sound's the sweep
Of easy wind and downy flake.
The woods are lovely, dark and deep.
But I have promises to keep,
And miles to go before I sleep,
And miles to go before I sleep. "
- Robert Frost -

A Winter Eden
" A winter garden in an alder swamp,
Where conies now come out to sun and romp,
As near a paradise as it can be
And not melt snow or start a dormant tree.
It lifts existence on a plane of snow
One level higher than the earth below,
One level nearer heaven overhead,
And last year's berries shining scarlet red.
It lifts a gaunt luxuriating beast
Where he can stretch and hold his highest feat
On some wild apple tree's young tender bark,
What well may prove the year's high girdle mark.
So near to paradise all pairing ends:
Here loveless birds now flock as winter friends,
Content with bud-inspecting. They presume
To say which buds are leaf and which are bloom.
A feather-hammer gives a double knock.
This Eden day is done at two o'clock.
An hour of winter day might seem too short
To make it worth life's while to wake and sport."
- Robert Frost -

Dust of Snow
" The way a crow
Shook down on me
The dust of snow
From a hemlock tree
Has given my heart
A change of mood
And saved some part
Of a day I had rued."
- Robert Frost -

A Patch of Old Snow
" There's a patch of old snow in a corner
That I should have guessed
Was a blow-away paper the rain
Had brought to rest.
It is speckled with grime as if
Small print overspread it,
The news of a day I've forgotten -
If I ever read it."
- Robert Frost -

My Winter Friend
" Snowman, snowman
What's your name ?
Snowman, snowman, winter friend
I'm glad you came my way again.
One round ball for your head,
Tied just right, a scarf of red,
Pearhaps a silver tie instead
Snowman, snowman, winter friend,
I'm glad you came my way again
Then your tummy big and fat,
Two eyes of cola, a tall silk hat,
A carrot smile, I like that.
Snowman, snowman, winter friend
I'm glad you came my way again."
- Judith A. Lindberg -

Bits of Lace
" Snowflakes in the air
Winter everywhere
Jingle Bells, sing Noel,
Special gifts to share
Snowflakes on the trees,
Painting fantasies.
Wonderland, hand in hand,
magic sight to see.
Snowflakes on my face,
Little bits of lace.
Decorations, celebration,
Downhill sledding race.
It's Christmas !
- Judith A. Lindberg -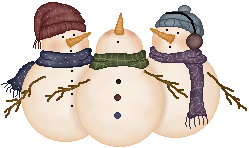 Click below if you have clicked on Winter Tour on the Winter Main Page.
| Continue the Winter tour |