Although I have never been to Hawaii, I have always been fascinated by its beautiful beaches, volcanos and culture.
Hawaii consists of a group of volcanic islands in the central Pacific Ocean. The capital is the city of Honolulu, on the island of Oahu.

The name Hawaii is thought to derive from Hawaiki, the former name of Raiatea, one of the Society Islands, from which Polynesians sailed in voyaging canoes to settle after AD 1000. On August 21, 1959, Hawaii became the 50th U.S. state.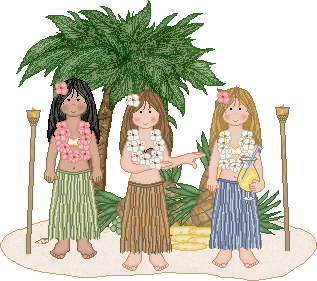 The land area of the state of Hawaii consists of the tops of a chain of emerged volcanic mountains that form eight major islands and 124 islets.
The eight major islands at the eastern end of the chain are, from west to east, Niihau, Kauai, Oahu, Molokai, Lanai, Kahoolawe, Maui, and Hawaii.
This picture was taken by my sister in Oahu, in June 2003.
Volcanic activity has become dormant, with the exception of the volcanoes of Mauna Loa and Kilauea, located on largest island, Hawaii, where spectacular eruptions and lava flows take place from time to time.
Most anthropologists believe that the original settlement of Hawaii was by Polynesians who migrated northwest from the Marquesas Islands, perhaps as early as AD 400, to be followed by a second wave of immigration that sailed from Tahiti during the 9th or 10th century.
The first recorded contact between the Hawaiians and Europeans took place in 1778, when Captain James Cook came upon the islands.
This picture was taken by my sister in June 2003.
The dance known as hula was used by ancient Hawaiians to pass along the stories and legends of their culture to the youngest generations. It was developed in the Hawaiian Islands by their original Polynesian settlers. Hula kahiko, or ancient hula, uses dance and chanting to relate the proud and somber history, customs, ceremonies and traditions of ancient Hawaii and her people. Hula auwana, or modern hula, is the dance form most people are familiar with, combining dance and music for a more playful, joyous and spirited recounting of contemporary life in the islands.
Click below if you have clicked on Summer Tour on the Summer Main Page.
| Continue the Summer tour |