Spring Poetry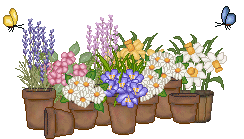 " Spring, the sweet Spring, is the year's pleasant king
Then blooms each thing, then maids dance in a ring
Cold doth not sting, the pretty birds do sing,
Cuckoo, jug-jug, pu-we, to-witta-woo !
The fields breathe sweet, the daisies kiss our feet
Young lovers meet, old wives a-sunning sit
In every street these tunes our ears do greet
Cuckoo, jug-jug, pu-we, to-witta-woo !
Spring ! The sweet Spring ! "
- Thomas Nashe -

" A light exists in spring
Not present on the year
At any other period.
When March is scarcely here

A color stands abroad
On solitary hills
That silence cannot overtake,
But human nature feels.

It waits upon the lawn;
It shows the furthest tree
Upon the furthest slope we know;
It almost speaks to me.

Then, as horizons step,
Or noons report away,
Without the formula of sound,
It passes, and we stay:

A quality of loss
Affecting our content,
As trade had suddenly encroached
Upon a sacrament."
- Emily Dickinson -

There is Spring
" Where there are love and generosity, there is joy.
Where there are sincerity and sacrifice, there is friendship.
Where there are harmony and simplicity, there is beauty.
Where there are prayer and forgiveness, there is peace.
Where there are moderation and patience, there is wisdom.
Where there are conflicts and crises, there is opportunity.
Where there are wonder and adventure, there is growth.
Where there are adoration and confession, there is worship.
Where there are compassion and concern, there is God.
Where there are faith and hope, there is spring."
- William A. Ward -

Forever Spring
" Spring comes on forever,
A rebirth upon the land,
The wondrous greening season
That God has kindly planned.
The days grow warm and mellow,
Birds fill the air with cheer,
Everything seems magical,
The skies are azure clear.
Flowers burst in beauty,
Sweet aroma scents the air,
Playful breezes waft about,
The meadows emeralds wear.
Spring comes on forever
To merry, languid hearts,
With sense of great renewal
And the joy that it imparts."
- Virginia Borman Grimmer -


Click below if you have clicked on Spring Tour on the Spring Main Page.
| Continue the Spring tour |