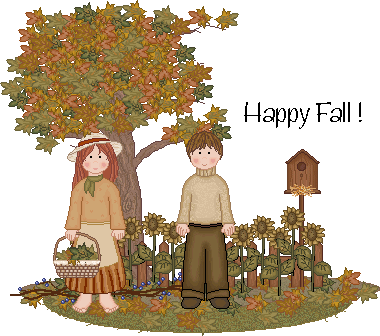 Welcome Fall !
Here in Brazil, Fall begins on March 21st and ends on June 21st.
When the Fall season begins in the Northern hemisphere,
it's Springtime in Brazil (September 22nd to December 21st).
Click below to enter and enjoy browsing through my Fall pages or take a look at the beautiful Fall cards I received from my country friends.
Here at Irene's Country Corner it's Fall all year through.


[ Back to the Site Index ] [ Back to the Home Page ]

Snow effect script with falling leaves by Dynamic Drive
Nothing in this site is Public Domain. Graphics are copyrighted by various artists and are used with permission.
Please, click on the links above to visit the websites were you can download the graphics from. Do NOT take anything from my pages, please.
Visitors since October 2, 2004: