Saint Francis of Assisi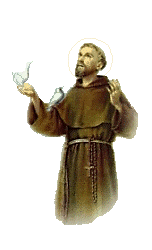 A prayer
" Lord, make me an instrument of your peace,
Where there is hatred, let me sow love;
...where there is injury, pardon;
...where there is doubt, faith;
...where there is despair, hope;
...where there is darkness, light;
...where there is sadness, joy;
O Divine Master, grant that I may not so much seek
...to be consoled as to console;
...to be understood as to understand;
...to be loved as to love.
For it is in giving that we receive;
...it is in pardoning that we are pardoned;
...and it is in dying that we are born to eternal life."
 

| Back to the Reading Corner Menu |
This page was created on: September 8th 2001.
[ Site Menu ] [ Home ]
~ Backgrounds made by me ~ Midi "Clair de Lune" from the Suite Bergamasque by Claude Debussy, from MidiWorld ~
Nothing in this site is Public Domain. Graphics are copyrighted by various artists and are used with permission.
Please, click on the links above to visit the websites were you can download the graphics from. Do NOT save anything from my pages, please.