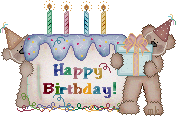 Parabéns pra você
Nessa data querida
Muitas felicidades
Muitos anos de vida !!!

Thank Annette and Suzanne for remembering this special date!
You made my birthday even more special this year.
And thank you Cherye, Karin, Wanda Lúcia, Lu and Svanita for your messages and e-cards.
You all have a special place in my heart!!!
Please, note that these cards were received in July 2008. If a link does not work in the future it is because the site has moved or is not on line anymore.
| | |
| --- | --- |
| Thank you Annette! | Thank you Suzanne! |

Thank you Suzanne!

<< Back to my Birthday <<
[ Back to the Personal Corner Menu ]
This page was created on: July 4, 2008.
[ Site Menu ] [ Home ]

~ Graphic Garden ~ Michelle's Little Cuties (www.michelleslilcuties.com) ~ Khaver's Graphics (www.khaver.com) ~
Birthday midi sequenced by Bob Mace (www.pendragon-ent.com/bobmidi/bobmidi.htm) and used with permission - site closed.
Nothing in this site is Public Domain. Graphics are copyrighted by various artists and are used with permission.
Please, click on the links above to visit the websites were you can download the graphics from. Do NOT save anything from my pages, please.