July 3rd 2003

This birthday was a very special one. I was expecting
my first baby (it was the 16th week of pregnancy).
Our precious was born on December 12.
I couldn't have asked for a better present. :o)
I had a wonderful time today with my mom,
Julio, Lully, Sophie and Cleo, and some special
friends made me very happy with beautiful surprises.
You are really true friends. Thank you for
remembering my birthday and making it so special!!!


BIRTHDAY CARDS
To see the beautiful cards I received from dear friends, click above.
Please, remember that if any of the links to my friends pages below do not work, it means that their sites have moved or are not on line anymore. I try to keep these links updated, but sometimes it's not possible.
My dear Brazilian friend Wanda Lúcia made me a beautiful surprise. Click HERE to see the beautiful page she made specially for me. Obrigada Wanda Lúcia !!!
And another surprise...my dear friend Lu surprised me with another wonderful gift. She made some beautiful birthday pages to display all cards people sent her as a surprise for me, however it`s not online anymore.
Muito obrigada Lu !!! Thank you !
And thank you Kori for helping her in this beautiful surprise.
Oh ! my friends are really spoiling me. :o)
My friends Therese and Anna have also made a beautiful page to me, however it`s not online anymore.
Thank you my friends !!!
And that's not all. You are really spoiling me this year and I LOVE IT !!!!
Bente has also made a beautiful page to me, however it`s also not online anymore. Thank you my friend !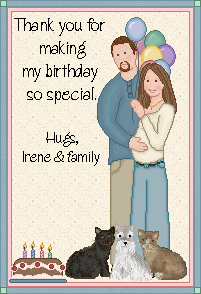 Thank you everyone !


Help me blow out the candles. ..
There are too many on my birthday cake,
but I won't tell you how many :o)

Back to the Birthday Menu
Nothing in this site is Public Domain. Graphics are copyrighted by various artists and are used with permission.
Please, click on the links above to visit the websites were you can download the graphics from. Do NOT take anything from my pages, please.