My Birthday
July 3rd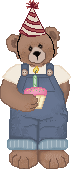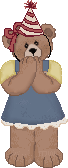 I had a nice birthday this year. I had lunch with my mother in the afternoon, spent the rest of the day with Lully, Sophie and Cleo and went to a nice restaurant with Julio in the evening.
I received cute cards from some of my friends this year.
Thank you !!!! You made me very happy ! :o)
Click below to see the beautiful cards I received in 2002.

BIRTHDAY CARDS

Back to the Birthday Menu

Nothing in this site is Public Domain. Graphics are copyrighted by various artists and are used with permission.
Please, click on the links above to visit the websites were you can download the graphics from. Do NOT save anything from my pages, please.