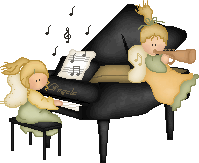 The Music Room


" Beautiful music is the art of the prophets that can calm the agitations of the soul; it is one of the most magnificent and delightful presents God has given us."
- Martin Luther -
| | |
| --- | --- |
| | I love music and I have always been fascinated by the piano since I was a little girl. I began to study the piano when I was 12 years old, but I only got my piano two years later. My dad bought it for my birthday. It was the best present I received in my whole life. |
I studied for many years with Myriam Pamplona de Campos, who taught music at the Brazilian Music Conservatory (Conservatório Brasileiro de Música). When I entered university, I studied with the Brazilian pianist Heitor Alimonda at Rio de Janeiro's Federal University Music School (Escola de Música da UFRJ). I have to thank my dear teacher Myriam for everything she taught me along these years.
" When you fill your day with song,
you fill your heart with cheer."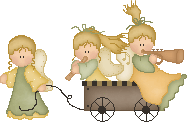 The Piano
"The idea of fitting a keyboard to an instrument with strings, which started to vibrate when struck by hammers, was conceived probably in the fourteenth and certainly in the fifteenth century.
Bartolommeo Cristofori, a Paduan harpsichord maker, is credited with constructing the first piano, the date usually put at between 1709 and 171 1. He called his new instrument "gravicembalo col piano e forte", or "harpsichord with soft and loud". In shape and general construction it resembled a harpsichord, but it differed in its action mechanism.
The year 2000 marked the 300th anniversary of the invention of the piano."
" O music, In your depths we deposit our hearts and souls. Thou hast taught us to see with our ears and hear with our hearts. "
- Khalil Gibran -
" Music is enough for a lifetime, but a lifetime is not enough for music."
- Sergei Rachmaninoff -
Nothing in this site is Public Domain. Graphics are copyrighted by various artists and are used with permission.
Please, click on the links above to visit the websites were you can download the graphics from. Do NOT save anything from my pages, please.