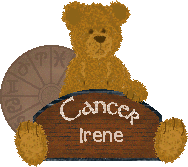 JUNE 22 to JULY 21
Ruler: Moon
Birthstone: Pearl


~ Cancer Traits ~
Emotional and loving
Intuitive and imaginative
Shrewd and cautious
Protective and sympathetic
Changeable and moody
Overemotional and touchy
Clinging and unable to let go

"Nest like" is an appropriate adjective for the Cancerian home. They feel strongly protective and love unreservedly, giving much and asking little in return. They are easily influenced by those they love and admire, and swayed by the emotion of the moment. They are always good and loyal friends, but need time to socialize with strangers. They defend their rights and the rights of their family and friends at any cost. Cancerians are friends for life. Their relationships are very deep and devoted. They can't say no. In return, they expect their friends to be there when they are down and need help and if they're not, they feel rejected.
Although strongly conservative, they are fond of amusements and social life. Cancerians enjoy parties, travel and adventure, but sometimes there is nothing better than their homes. They are very home loving, fond of family life and domestic tranquility. They value harmony and happiness and do their best to make those around them comfortable at all times. They are frequently vivacious and are humanitarians as well, devoting themselves to worthy causes. They are always wanting to protect and help others.

They are often intuitive, even psychic, organized, creative, over-imaginative and prone to fantasy, sometimes trying to shape their lives to fit some romantic ideal. They are very sensitive, but they also have a quick temper. As they are ruled by the moon, their moods can become changeable very easily. Argument wears them down, criticism hurts them deeply and they crawl into their shells.
Cancerians have a retentive memory, particularly for emotionally laden events which they can recall in detail for years afterwards. They love the past and sometimes practically live in it, which accounts for the way they seek the new, yet always come back to the old. They never get rid of their old stuff, even if they know it serves for nothing anymore. The romantic side of their natures make them enjoy grubbing about in places where exciting discoveries may be made. Because they are strongly governed by childhood memories, they live intensely in the past in memory and in the future in imagination.

Cancerians are very appreciative of art, music and literature and may have themselves artistic and literacy talents. They have a very strong inner-strength and strive to improve their performances by giving their best to get ahead.