The Olympic Games
| | |
| --- | --- |
| | The first Olympic Games of the Modern Era date from 1896 in Athens, Greece, although the creation of the event dates from approximately 2500 B.C. and has its origins in the sportive festivals in honor to Zeus. Only in 776 B.C. Ifitos (king of Ilia) made an alliance with Licurgo (king of Esparta) and Clistenes (king of Pissa) in the temple of Hera, in the sanctuary of Olympia, which originated the term Olympic Games. |
These games were dedicated to the Olympian gods and continued for nearly 12 centuries, until Emperor Theodosius I banned these "pagan cults" in 393 A.D.

The Olympic Games of the Old Era started to decay in 456 B.C., when the Roman invaded and dominated Greece. The original spirit was little by little setting aside and the disputes, formerly cordial, started to be faced as combats.
The last Olympic Game of the Old Era happened in 393 A.C., when the Emperor Theodosius I prohibited the cult to the gods and canceled the games.
The Olympic Games were forgotten for 1500 years. In 1896, thanks to the efforts of the French Pierre de Coubertin, the first Olympic Games of the modern Era took place in Athens, Greece.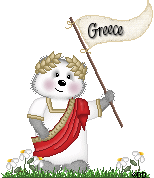 Since then, with the exception of the period involving the two World Wars, the games happened every 4 years. During the 20th century, the Olympic Games took place in different countries and continents. In 2004, the Olympic games returned to its country of birth after 108 years.
Information from UOL Esporte - Olímpiadas 2004.
| | |
| --- | --- |
| | During the Olympic Games 2004 in Athens, Greece, Brazil won 10 medals, 4 gold, 3 silver and 3 bronze medals, being nº 18 in the rank by gold medals, and nº 21 in the rank by the total number of medals. The gymnast Daiane dos Santos, who was world champion gymnast in 2003, was Brazil's favorite for gold medal, but unfortunately she lost many points for stepping out of the line during the floor exercises and didn't win medals despite her beautiful presentation. Her famous series of leaps, body twists and flips was nicknamed "Dos Santos" in her honor, by the International Gymnastics Federation during the World Gynmastics Championship in 2003. |
During the men's marathon, the final event of the Olympic Games, a spectator ran onto the course of the run and bundled Brazilian Vanderlei de Lima into the crowd, stopping him completely with about only four miles remaining. Spectators and security guards intervened and Vanderlei, who was leading the race, was able to rejoin but he looked shaken and was passed soon afterwards by Stefano Baldini of Italy. Baldini won the race ahead of American Meb Keflezighi.
The intruder was a 57 year old man named Cornelius Horan, an Irish and former priest, dressed in a kilt and beret, who also interrupted the British Formula One Grand Prix in 2003.
Vanderlei de Lima said the incident may have cost him the gold medal and Brazilian officials said they would appeal to the Court of Arbitration for Sport for a review of the results.

BRAZIL'S MEDALS
| | |
| --- | --- |
| GOLD | |
| Sailing - Laser | Robert Scheidt |
| Beach Volleyball - Men | Ricardo & Emanuel |
| Sailing - Star | Torben Grael & Marcelo Ferreira |
| Volleyball - Men | |
| SILVER | |
| Football - Women | |
| Equestrian - Individual Jumping | Rodrigo Pessoa - horse Baloubet du Rouet |
| Beach Volleyball - Women | Adriana Behar & Shelda |
| BRONZE | |
| Judo - Men's - 81 kg | Flávio Canto |
| Judo - Men's - 73 kg | Leandro Guilheiro |
| Athletics - Men's Marathon | Vanderlei Cordeiro de Lima |
Photo Gallery
| | | |
| --- | --- | --- |
| | | |
| Robert Scheidt | Torben Grael & Marcelo Ferreira | Ricardo & Emanuel |
| | | |
| | | |
| Rodrigo Pessoa | Daiane dos Santos | Adriana Behar & Shelda |
| | | |
| | | |
| Flávio Canto | Leandro Guilheiro | Vanderlei Cordeiro de Lima |
| | |
| --- | --- |
| | |
| Men Volleybal Team | Women Soccer Team |