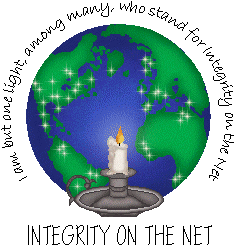 In May 2001, I joined a wonderful group called Integrity on the Net. We were a group of women from all over the world who stands for, above all - as the name of the group says for itself - INTEGRITY. According to the dictionary Integrity means "quality of being honest and morally upright".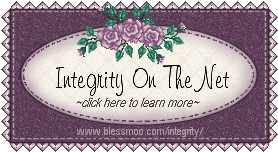 The cyber space should be a place for everyone to enjoy and have fun, but unfortunately this is not always a reality. Many people who create their websites are not aware of copyrights issues and the importance of giving proper credit or being original, but this will not be a problem if they all learn about it and start respecting.
Some people simply look at other people's sources or copy entire sites in order to modify them to make their own. If we like a particular layout, why not trying to learn how to do it instead of copying?
Many people still steal bandwidth by direct linking to images. This causes a lot of trouble to many people who are forced to pay fees for exceeding their bandwidth limit and some even close their sites.
If all webmasters respected copyrights and abided by the terms of use of the graphics they download or purchase, there would not be so many beautiful sites closing, specially in the country community.
Let's all learn to have respect for others, be original and show integrity on the net.
Please, do not copy sources. Please, do not copy text. Please, do not download images without permission. Please, do not use graphics from a graphics site that requires registration if you are not a registered member. Please, respect others if you want them to respect you. Please, take a some time to think about it. Please...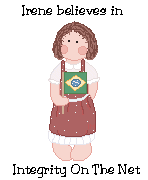 I would like to say a huge "Thank you!" to all graphic artists who worked hard to make beautiful graphics for us to use them in our pages.
Unfortunately, the IOTN site has closed.
Please, take some time to visit the sites below. There is a lot of things you can learn, even if you already know a lot about copyright, plagiarism, theft, originality etc, there is always something we can learn.
If a link does not work, it means that the site has moved or is no longer on line. I try to keep links updated when it is possible.
| | | |
| --- | --- | --- |
| | This site is not on line. | |
| | | |
| --- | --- | --- |
| | This site is not on line. | This site is not on line. |
| | | |
| --- | --- | --- |
| | This site is not on line. | |
| | | |
| --- | --- | --- |
| | | This site is not on line. |
| | | |
| --- | --- | --- |
| This site is not on line. | | |

:: Back to the Internet Corner menu ::
This page was created on: June 21, 2001.
Links updated on: July 9, 2008.
[ Site Menu ] [ Home ]
~ Backgrounds by Graphics by Irene ~ IOTN logo by Karen (http://www.daisydreams.co.za) ~ IOTN charter members logo by Lori (http://www.geocities.com/loriferg/graphics.html) ~ IOTN Statement of Commitment logo by Donna ~ IOTN Review Committee logo by Mary Ann ~ ~ Lead by Example logo by Susie ~ I Support Originality doll, IOTN Around the World globe and IOTN doll with Brazilian flag by me ~ Stop before cut and paste logo by Mary ~ Original United logo by Camille (http://www.countrygraphics.com) ~ Teach, Learn, Live and No right-click logos by Kat (http://katsmouse.com) ~ Do you care logo by Liv (http://come.to/paintpots) ~