Irene's Country Corner Anniversary
October, 15 2000.

I use the internet at home since April 1998, but Irene's Country Corner was officially opened on October 15, 2000. The first time I found a website with country graphics was around July 2000. I was surfing the web searching for a dog-related clipart to use in a page I was making for my dog when I came across Sally's My Treasured Collection. It was love at first site. I fell in love with the beautiful country graphics she created and offered on her website. Through Sally's site, I found Susanna's Country Side and from Susanna I found Tequila's Country Home, then each day I knew more and more personal sites so beautifully decorated and I decided create this site (formerly known as Jewel's Country Place). In the beginning it had only 15 pages, now it has grown so much that it has over 600 pages. I met wonderful people from different countries and I like to create new pages every time I have some free time or feel inspired, so there is always somethig new here for my friends and family to enjoy.
I didn't expect my website to grow so much in a short period of time. I may not be the best webdesigner, but I am very proud of my work, specially because I learned by myself. I put lots of dedication on the creation of this site. It took me endless hours of work, but I really like how it turned out.
I made these pages in my website for my Internet friends to enjoy. New visitors are welcome to.
Below are some cards sent by dear Internet friends in different years.
Thank you so much!

Please, note that if a link does not work it means that the site has moved or is not on line anymore.
3 Years Anniversary
| | |
| --- | --- |
| Thank you Lu ! | Thank you Biene ! |

4 Years Anniversary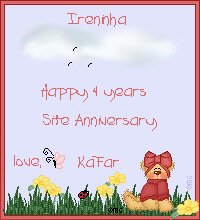 Thank you Lu !

5 Years Anniversary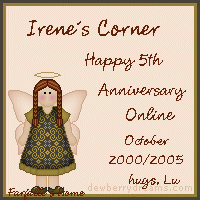 Thank you Lu !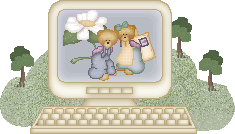 :: Back to the Internet Corner Menu ::

Page created on: August 12, 2001.
Last updated on: October 4, 2005.

[ Site Menu ] [ Home ]

~ Graphics by Irene ~ Graphics by Lalla (http://clix.to/lalla) ~ Sista Scribbles (www.geocities.com/sista_scribbles) ~
Please, note that Graphics by Lalla and Sista Scribbles are not on line anymore.
Nothing in this site is Public Domain. Graphics are copyrighted by various artists and are used with permission.
Please, click on the links above to visit the websites were you can download the graphics from. Do NOT save anything from my pages, please.