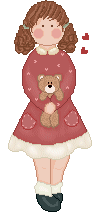 Would you like to adopt my Valentine doll ?
There are just a few simple rules :
1. You must have a family-friendly site, no adult or offensive content of any kind.
2. You must not alter the doll in ANY way. That includes resizing, recoloring, using her to create cards, awards or other graphics, add/modify text etc.
3. You must give credit to ALL artists of the graphics you use in your site on the same page their graphics appear.
4. You must NOT place the doll in guest books or use her to decorate emails, she is for your or your friend's sites only.
5. You must place the adoption certificate on the same page the doll appear with a link to http://www.irenescorner.com. Text links are not accepted for adoptions.
Please, do not adopt her if you do not abide by copyright rules, if you use graphics without permission, steal or copy other people's work. I trust you to follow these simple rules.
Valentine Doll
No personalization available.
Click HERE to save the doll to your own computer.
When a new window opens right-click to save.
I trust you all are people of integrity and will not break the rules. :o)

Nothing in this site is Public Domain. Graphics are copyrighted by various artists and are used with permission.
Please, click on the links above to visit the websites were you can download the graphics from. Do NOT take anything from my pages, please.