Thanksgiving Blessings from Irene's Country Corner
Want to exchange cards with me ? Send me your card and the url to link it to
and I will post it in my Thanksgiving cards page. Please, save mine below and
link it to http://www.irenescorner.com.
Do not alter or copy, please. It is NOT public domain.
It's just for me to exchange with friends. Thank you !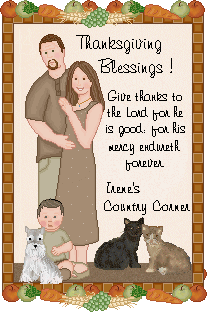 Thanksgiving card 2004
Quer trocar cartões comigo ? Me mande o seu junto com a url de seu site
e o colocarei na minha página de cartões de Ação de Graças. Para salvar meu
cartão, clique sobre ele e depois que uma nova janela se abrir,
clique com o botão direito de seu mouse.
Não se esqueça de colocar o link no próprio cartão para http://www.irenescorner.com.
Não o altere ou copie por favor. Ele não é de domínio público.
É apenas para trocar com amigos. Obrigada !
These are my old Thanksgiving cards. Click on them if you want to save.
| | |
| --- | --- |
| | |
| Thanksgiving card 2001 | Thanksgiving card 2002 |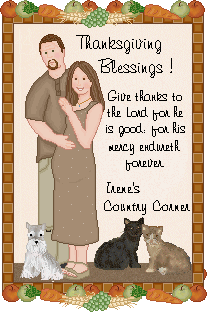 Thanksgiving card 2003