Mother's Day Poems
" A Mother's love must always be strong,
her work is hard, her day is long.
But all in all, she is truly blessed,
for there is nothing so warm as a crowded nest."
God Created Mothers

" God created mothers
With a special purpose in mind
He knew how much little children would need
Someone patient, loving and kind
God in His infinite wisdom
Made mothers a part of His plan
To help little girls transform into women
And each small boy grow up into a man
God blessed Mothers with eyes that could see
To the depths of a child's joy and fears
He made their hands firm enough to guide and to hold
But gentle enough to wipe away tears
I'm so glad God thought of mothers
Since creatures young and small
Need someone there to love them
And mothers do it best of all ! "
~ Author Unknown ~

MOTHER

" M is for the million things she gave me
O means only that she's growing old
T is for the tears she shed to save me
H is for her heart of purest gold
E is for her eys, with love-light shining
R means right and right she'll always be
Put them all together, them spell MOTHER
A word that means the world to me. "
~ Howard Johnson ~

" Moms shop, cook, wash, iron, mends, sews, teaches.
She scrubs, she mends, she cooks and sews,
She bathes the children and washes their clothes.
When they forget to wash their faces clean,
And their clothes are the muddiest you've ever seen,
Who repairs the clothes and scrubs them like new?
Of course, that is what a Mother will do.
Who becomes the doctor or the nurse when they are ill,
Applying a bandage or giving them a pill?
Who becomes a teacher when a child has homework?
She must never her duty shirk.
Who becomes a detective to find a toy or a book?
For missing things she must look and look?
Who becomes a listner to every heartache,
To every accompolishment that a child makes?
Who scolds their children when they are naughty,
Or remind them of God when they are to haughty?
Who tends her family with love and patience, too?
Of course that is what a Mother will do. "

Excuse This House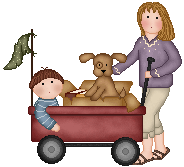 " Some houses try to hide the fact
That children shelter there.
Ours boasts of it quite openly,
The signs are every where.
For smears are on the windows,
Little smudges on the doors;
I should apologize I guess
For toys strewn on the floor.
But I sat down with the children
And we played and laughed and read,
And if the doorbell doesn't shine,
Their eyes will shine instead.
For when at times I'm forced to choose
The one job or the other,
I want to be a housewife . . .
But first I'll be a mother. "

I'd Rather

" I'd rather be a mother
Than anyone on earth -
Bringing up a child or two
Of unpretentious birth.
I'd rather tuck a little child
All safe and sound in bed -
Than twine a chain of diamonds
About my foolish head.
I'd rather wash a smudgy face
With round, bright baby eyes -
Than paint the pageantry of fame,
or walk among the wise. "
~ Meredith Gray ~

Mother's Heart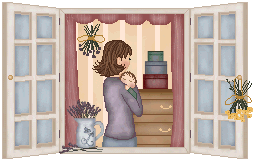 " I loved you from the very start,
You stole my breath, embraced my heart.
Our life together has just begun
You're part of me my little one.
As mother with child, each day I grew,
My mind was filled with thoughts of you.
I'd daydream of the things we'd share,
Like late-night bottles and Teddy bears.
Like first steps and skinned knees,
Like bedtime stories and ABC's.
I thought of things you'd want to know,
Like how birds fly and flowers grow.
I thought of lessons I'd need to share,
Like standing tall and playing fair.
When I first saw your precious face,
I prayed your life be touched with grace.
I thanked the angels from above,
And promised you unending love.
Each night I lay you down to sleep,
I gently kiss your head and cheek.
I count your little fingers and toes;
I memorize your eyes and nose.
I linger at your nursery door,
Awed each day I love you more.
Through misty eyes, I dim the light,
I whisper, "I love you" every night.
I loved you from the very start,
You stole my breath, embraced my heart.
As mother and child our journeys begin,
My heart's yours forever little one. "