Being a Mother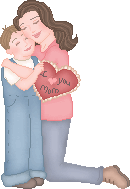 After many years trying to become a mother, I was finally blessed with a precious baby. My son Nicholas, was born on December, 12 2003, at 8:54pm. The memories from that day will be in my heart and my mind forever.
The first contact, the first smile, the first laugh, the first step, the first words... everyday is a wonderful day. There is nothing better than being a mom.
I love you my little prince !
Nothing in this site is Public Domain. Graphics are copyrighted by various artists and are used with permission.
Please, click on the links above to visit the websites were you can download the graphics from. Do NOT take anything from my pages, please.