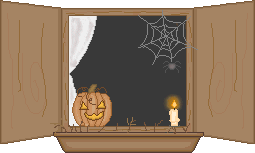 If a candle flame suddenly turns blue, there's a ghost nearby.

In some countries, it's a sign of bad luck if a black cat crosses your way.
Ringing a bell on Halloween will scare evil spirits away.
Seeing a spider on Halloween could be the spirit of a dead loved one who is watching you.
Knocking on wood keeps bad luck away, not always on Halloween, but at any time.
A person born on Halloween is believed to see and talk to the spirits.

If a bat flies around a house 3 times, it is a sign of a death omen.

Click below if you have clicked on Halloween Tour on the Halloween Main Page.
| Continue the Halloween tour |
Nothing in this site is Public Domain. Graphics are copyrighted by various artists and are used with permission.
Please, click on the links above to visit the websites were you can download the graphics from. Do NOT take anything from my pages, please.