My Halloween Quilt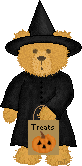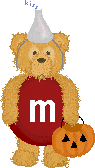 | | |
| --- | --- |
| | If you have your Halloween pages OPEN all year and want to exchange quilts with me, please, send me your quilt square (must be 130x130) and the url of your HALLOWEEN MAIN PAGE, NOT the url of your site's main page. |
I want this quilt to have links to Halloween pages ONLY, NOT to regular pages decorated with Halloween graphics. Sorry about that. Thanks for your understanding !
Family-friendly sites only, please.
To save my quilt, click on it and wait until a new window opens, then right-click
to save it to your hard drive.

| | |
| --- | --- |
| | Please, remember this page is supposed to have ONLY links to Halloween pages. I will be happy to add your quilt piece too, but all I ask is that you have your Halloween pages open all year so I will be able to click on your quilt piece and visit your Halloween pages at any time of the year. :o) |
Click on a quilt piece below to visit other beautiful Halloween pages.

















Please, notice that if links don't work, it means that people have changed them.
I try to keep these links updated but it's not always possible.
| | |
| --- | --- |
| | Please, send me your quilt piece ONLY if you KEEP your halloween pages OPEN ALL YEAR long. Thank you for your understanding ! |

Click below if you have clicked on Halloween Tour on the Halloween Main Page.
| Finish the Halloween tour |
Nothing in this site is Public Domain. Graphics are copyrighted by various artists and are used with permission.
Please, click on the links above to visit the websites were you can download the graphics from. Do NOT save anything from my pages, please.