My Halloween Adoptions For You
If you want to adopt one of my Halloween cuties, please read the rules in the adoption pages before adopting. If you agree with them, you are welcome to take them home with you. :o)
If you're not familiar with adoptions yet and don't understand exactly what it is, I'll tell you about it.

An adoption is a clipart, that comes along with a certificate. It can be any kind of graphic and it is used to decorate web pages only, not to be used in emails, guest books etc.
People have fun collecting adoptables. :o) It's like collecting anything else you like.
An adoptable can be "adopted" by downloading the graphic and the certificate or filling in an email form requesting it to the person who is offering the adoption. The certificate has to be linked to the site of the person who offers the adoption, so others can visit this site and adopt it too.
People make their own rules for adoption and they are different from each other, although they all have some things in common. Please, do not forget to read all rules every time you adopt something from someone.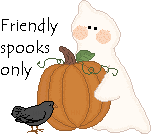 Choose your adoption and have fun.

Click below if you have clicked on Halloween Tour on the Halloween Main Page.
| Continue the Halloween tour |
Nothing in this site is Public Domain. Graphics are copyrighted by various artists and are used with permission.
Please, click on the links above to visit the websites were you can download the graphics from. Do NOT take anything from my pages, please.