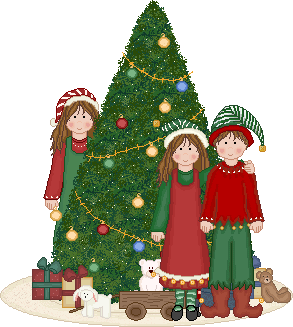 My Christmas Award
Below are the Christmas award I created and that I give to beautiful Christmas pages every year. I love to browse through country pages when I have some free time and I like to surprise people with my awards.
| | |
| --- | --- |
| My Christmas Award created in 2001 | My Christmas Award created in 2003 |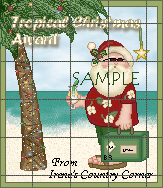 My Christmas Award created in 2005

I only give this award to sites that:
1. Are family-friendly (no adult or offensive material of any kind).
2. Give credit to ALL graphic artists in ALL pages their graphics are used.
3. Use only original graphics, or have most pages decorated with them.
4. Do not copy others or use graphics without permission.

These are the beautiful Christmas pages that received my awards:
Please, note that if a link does not work it means that the site has moved or is not online anymore.
I try to keep these links updated every time it is possible.
* Indicates sites or pages which are not on line anymore.
Please, note that some people may still have their sites on line, but not their Christmas pages.
Nothing in this site is Public Domain. Graphics are copyrighted by various artists and are used with permission.
Please, click on the links above to visit the websites were you can download the graphics from. Do NOT take anything from my pages, please.