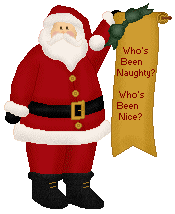 Christmas Cards I received
I love to receive cards. Who doesn't like it ?
It makes me very happy to open my mailbox and find a card from a friend.
Would you like to exchange cards with me ?
Click on the reindeer to save my Christmas card.
Use the links below to see the beautiful Christmas cards I received from my internet friends along all these years I have been on line.
Thank you friends for sending me so many cards.
Merry Christmas !


Click here to save my card.

You are listening to "Have yourself a very Merry Christmas", from Jim's Christmas
Graphics by Sue ~ Kim ~ Debi ~ Backgrounds by Graphics by Irene ~
Please, notice that Kim's sites are closed, however the artist's terms of use must still be followed. Thank you !
Nothing in this site is Public Domain. Graphics are copyrighted by various artists and are used with permission.
Please, click on the links above to visit the websites were you can download the graphics from. Do NOT take anything from my pages, please.