Rain forests are the most biologically diverse ecosystems in the world. They have more plant and animal life than any other natural habitat on Earth. Although rain forests represent less than 7 % of land surface on the planet, they contain more than 60%, or maybe much more, of the world's plant and animal species.
A typical acre of forest in the Amazon may contain 250 or more tree species, compared, for example, with perhaps a dozen in any acre of woods in the northeastern United States. Because the crowns of these forest giants form a virtually closed canopy, allowing only about 10% of the sunlight to filter through, there is little plant or animal life on the ground below. However, the trees are festooned with a wide variety of epiphytes, bromeliads and lianas while their branches teem with animal life.

Lush vegetation is the main characteristic of the rainforests, where high temperature and rainfall occur throughout the whole year. The temperature is almost the same throught the whole year. The average annual temperature is around 25° C (77° F), being the average minimum around 18° C (64° F). There are no dry seasons and if dry periods occur, they are always short.
The Brazilian Amazonian rainforest, in the north of Brazil, is the richest ecosystem in the country with the most varied plant life on Earth, a large number of different bird species and the largest variety of monkeys in the whole world. It is one of the world's largest woodland area, covering about 40% of the entire country.





Some 1.400 bird species have been identified in the immediate vicinity of the main stream of the Amazon river system. In this same area, along the river banks, alligators, anacondas, boa constrictors, "capivaras" (Hydrochareis hydrochaeris) - a sub-aquatic animal and world's largest rodent - lizards, amphibians and mammals can be found.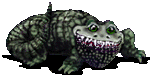 Among the estimated 750 species of mammals identified in South

America, 394 are found in Brazil, such as pumas, jaguars, ocelots, armadillos, anteaters and sloths among many others. Some like the ocelots and the "onça", a type of jaguar, have been hunted and are now among the endangered species.

In the waters themselves there are manatees, freshwater dolphins, and

some 1.500 identified fish species, with perhaps another 1.000 unidentified species; the variety includes many types of piranhas, not all of them flesh-eating, electric eels, and some 450 species of catfish.
The number of invertebrates is estimated in more than 100,000 species, being

70,000 of

these a large variety of insects. The Amazon is also home to the world's largest fresh-water turtle, of the genus Podocnemis, extinct everywhere except there and on the island of Madagascar.

| | | |
| --- | --- | --- |
| | | |