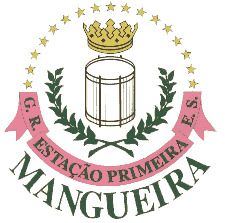 © Mangueira
The History of Estação Primeira de Mangueira
On May 11 1852, the first telegraph of brazil was inaugurated on a hill next to Quinta da Boa Vista (home of Emperor Dom Pedro II). The hill was soon named "Morro dos Telegrafos" (Telegraph Hill). Some time later, a factory that produced hats, named "Fábrica de Fernando Braga", was installed in that area. The factory became known as "Fábrica das Mangueiras" because at that time, many "mangueiras" could be found at that site (Mangueira is the name given to a tree that produces a tropical fruit called "manga"). Soon the factory changed its name to "Fábrica de Chapéus Magueira" (Mangueira's Hat Factory). The name Mangueira was so strong that when a train station was inaugurated there in 1889, it was named Mangueira and the hill next to the station, that was first called Morro dos Telégrafos, changed its name to Morro da Mangueira.
The hill had an owner, Franciso de Paula Negreiros Saião Lobato (Visconde de Niterói), but he was already dead when the hill began to be inhabited. Some people started to construct houses for rent, like the Portuguese Tomás Martins, godfather of the future composer Carlos Cachaça, who is seen as the founder of Mangueira for being the first one to explore it as a place for living. Soon, Mangueira was transformed into a community of poor people, mostly black people, sons and grandsons of African slaves.
Mangueira is the most traditional samba school in Rio de Janeiro.
© Liesa
© Liesa
© Liesa
© Globo.com
Mangueira's theme song lyrics - Carnival 2003 (About the Ten Commandements).
The midi is playing on this page.
"Os dez mandamentos: o samba da paz canta a saga da liberdade"
Samba: Marcelo d'aguiã, Bizuca, Gilson Benini, Clóvis Pê
Intérprete: Jamelão
Um clarão no céu
Iluminou... Mangueira !
Surge um caminho de luz
pra mergulhar na história
No Egito, um Faraó
poder e riqueza, cruel tirania
E um povo sonhava na lama
que o "libertador" ali nasceria
Flutua nas águas do Nilo
a esperança guiando o menino
Criado no luxo da corte
enfrenta o deserto, sagrado destino.
É o vento que sopra, poeira ! (bis)
segue o homem em busca da fé
do alto uma voz anuncia
a certeza de um novo dia.
Moisés desafia o rei
a ira divina desaba na terra
Libertação ! E num gesto encantado
o mar virou passarela
Descrença... Ilusão
No ouro a falsa adoração
A vontade de Deus é a lei da verdade
Foi revelada pra humanidade
Mostra pro mundo Brasil (meu Brasil !)
O caminho da felicidade
Quem planta a paz, vai colher amor (bis)
Um grito forte de liberdade
na estação primeira ecoou !



* Back to the Carnival in Rio Menu *
~ Miss Price Graphics ~ Graphics by Irene ~ Country Patch Collections ~
Nothing in this site is Public Domain. Graphics are copyrighted by various artists and are used with permission.
Please, click on the links above to visit the sites were you can download the graphics from. Do not save anything from my pages, please.