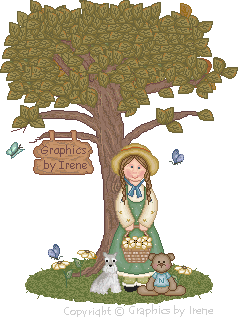 :ENGLISH:

:PORTUGUÊS:
:: Choose your language to enter ::
July 2, 2017 - Please, contact me at irenemmcs@hotmail.com after you finish your purchase so I can send you the link to download. Not updating this site until further notice, however you can all continue to download free sets and make purchases. But it's important to notify me by email using the address above to avoid delays in the delivery. I have a project to work on a new site offering printables which I will do when time allows. Busy life...always overworked...Thanks for the support along all these years.

Graphics by Irene non è più aggiornato però si può continuare ad acquistare colezioni di clipart e scaricare quelle gratuite. Un nuovo sito con imagine per stampare sarà disponibile appena possibile.
Graphics by Irene não é mais atualizado mas ainda é possível comprar as coleções e fazer o download dos sets gratuitos. Um novo site com imagens para imprimir estará pronto assim que possível.
Graphics by Irene n'est plus mis à jour, mais il est encore possible d'acheter les collections de cliparts et télécharger les cliparts gratuits. Un nouveau site Web sera prêt le plus tôt possible.

Procurando por alguém que traduza italiano-português e vice-versa? Entre em contato comigo através do email acima pois tenho experiência como tradutora freelance trabalhando para diversas agências de tradução já há alguns anos. Preço justo e pontualidade na entrega.
:: Best viewed: 1024 x 768 | IE 5.5 or higher ::


Visits
Last Updated: